Karzai announces new Afghan Cabinet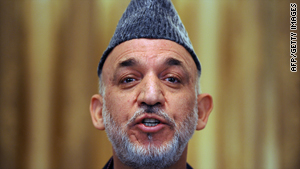 Hamid Karzai was returned to power in a disputed election in November.
STORY HIGHLIGHTS
NEW: British soldier dies in Afghanistan after explosion in Helmand province
Afghan President Hamid Karzai keeps 11 ministers in their Cabinet posts
Two officials who are accused in corruption scandals lose their jobs
Two ministers on the 25-member Cabinet still to be named
Kabul, Afghanistan (CNN) -- Afghan President Hamid Karzai announced his new Cabinet on Saturday, retaining 11 previous ministers.
The announcement, made live on state-run television, named 23 of 25 ministers. The ministers of foreign affairs and the disabled have not yet been named.
The ministers of defense and the interior retained their jobs and are seen as key in the effort to build up Afghanistan's security forces.
Karzai was re-elected following a national election marred by voter intimidation and rigging at the polls. Sworn into office in November for another term, the Afghan president is under intense pressure to wipe out corruption that runs rampant in Afghanistan.
The Cabinet reshuffle was being watched closely by the United States and other Western allies as an indication of Karzai's commitment to making his government more transparent.
Karzai made at least two key changes -- at the Ministry of Mines and at the Ministry of Hajj and Islamic affairs. Both officials have been accused in corruption scandals.

Video: Afghanistan corruption crisis

Video: Training the Afghans
Meanwhile, a British soldier died in Afghanistan following an explosion Saturday in the southern province of Helmand, the British Ministry of Defence said.
Separately, a U.S. service member was killed Friday during a mission in southern Afghanistan, NATO's International Security Assistance Force said Saturday. The service member was not identified.
The British soldier died of wounds he received from an explosion that happened while he was on foot patrol in the Nad-e-Ali area of central Helmand, the ministry said.
Lt. Col. David Wakefield, a spokesman for Task Force Helmand, called him "one of our fellow soldiers taken from us in the course of his duty, who will not be forgotten."
CNN's Atia Abawi and journalist Matiullah Mati contributed to this report.