U.S. military chief: 'We cannot have an endless surge' in Afghanistan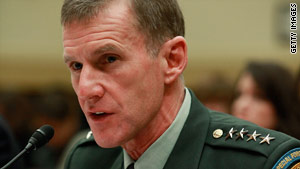 Gen. Stanley McChrystal, shown at a Capitol Hill hearing Thursday, says Afghanistan forces still need U.S. help.
STORY HIGHLIGHTS
Gen. Stanley McChrystal, the U.S. commander in Afghanistan, says 2011 withdrawal crucial
McChrystal: "It won't take longer to get this moving" so that Afghans have confidence
President Obama announced deployment of 30,000 more U.S. forces to Afghanistan
(CNN) -- Gen. Stanley McChrystal, the U.S. commander in Afghanistan, says the United States cannot provide the war-torn nation with an "endless surge" of combat forces.
In an extended interview with CNN's Christiane Amanpour to be aired this weekend, McChrystal said the United States and its allies are sending thousands of troops to help secure Afghanistan's future by reversing the Taliban's momentum and providing assistance to increase the Afghan national security force.
President Obama announced last week the deployment of another 30,000 U.S. forces to Afghanistan, increasing the total U.S. troop commitment to almost 100,000, while at least 25 other countries have pledged another 7,000 troops.
But McChrystal said Obama's additional goal to begin withdrawing U.S. troops in July 2011 will force Afghan officials to take the lead on ensuring their country's security.
"[The withdrawal date] tells people that we cannot have an endless surge of a significant number of combat forces," he said. "It's a forcing function to make people step up."
Afghan President Hamid Karzai has said his forces will take the security lead in five years, despite doubts among military analysts that the Afghan army and police will be able to provide a sufficient number of trained forces in that period.
McChrystal rejected concerns that the July 2011 withdrawal is too early.
"It will take longer, but it won't take longer to turn the momentum," he said. "It won't take longer to get this moving in the direction where Afghans have confidence."
McChrystal said he has already seen counterinsurgency efforts reverse the momentum of the Taliban in such areas as central Helmand and parts of Kunar and Khost provinces.
With the troop surge starting early next year, McChrystal said the strategy will be "to take away from [insurgents] that which they need -- access to the population. It's to go to key areas, expand security in those areas, and prevent the insurgents from having access."
McChrystal said the goal is to protect population centers to enable the government to improve security and governance. He also stressed the importance of avoiding civilian casualties, which have drawn criticism from Afghans, because they make it less likely the Afghan people will support the coalition.
"It is better to miss a target than to cause civilian casualties," he said. "We can always target enemy leaders later. We can't make up for the fact that we killed civilians."
Amanpour concluded her interview by asking McChrystal about the rare off-duty moments he enjoys in Afghanistan, times when reporters have seen him jogging around his headquarters in Kabul listening to his iPod.
He said his play list usually includes books: "I'm listening to one right now about George Washington and the Marquis de Lafayette and their relationship during the Revolution."
Asked whether he has drawn any lessons from the book, McChrystal said, "I think what you take away from George Washington is that it's always tough to include the ability to work with all the different players. ... So what I'll try to do is be a good team member as we focus our way forward."