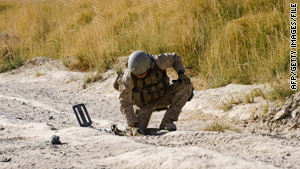 A U.S. Marine searches for roadside bombs last week in Afghanistan's Helmand province.
STORY HIGHLIGHTS
U.S., British, Afghan forces try to clear militants from northern Helmand province
Khareh Cobra operation comes as U.S., NATO pledge more troops for Afghanistan
Poppy-growing Helmand region supplies 90 percent of the world's opium
(CNN) -- More than 1,000 troops have started a big push against insurgents in a militant stronghold of southern Afghanistan, the U.S. Marines said Friday.
Around 900 American and British troops and more than 150 Afghan soldiers and police are working to clear militants from the Now Zad Valley of northern Helmand province in an operation called Khareh Cobra, or Cobra's Anger.
Helicopter and ground operations began around 3 a.m. local time Friday to take hold of "key terrain," said Maj. William Pelletier.
So far, he said, there have been a handful of insurgent deaths during small-scale engagements and forces have found weapons caches, seizing rocket-propelled grenades and small arms. Troops also have discovered components used to make deadly roadside bombs.
The operation began as the United States and other NATO allies announced plans this week to escalate the fight against the Taliban and al Qaeda in Afghanistan and along its border with Pakistan.

Video: U.S. relies on local Afghan groups

Video: Clinton on more NATO troops

Video: Obama team grilled on Afghan plan
The Obama administration pledged 30,000 more U.S. troops to complement the 68,000 in Afghanistan, and NATO command said other allies have promised around 7,000 more troops.
Helmand province -- where British troops long have been based -- has been a militant stronghold and a poppy-growing region that helps fund the insurgency. It supplies 90 percent of the world's opium, which is used in the production of heroin.
Now Zad had been the second-largest city in the province, the Marines said, but has become empty because of years of fighting.
The valley is "a major through-route" for transporting fighters and munitions from east to west and north to south, said Pelletier, who's at Camp Leatherneck in Helmand.
The Marines said insurgents have mined the region and troops intend to provide enough security for the Afghan government and nongovernmental organizations to begin clearing the mines and roadside bombs so they can repopulate the town.
Because the area is heavily mined and laden with roadside bombs, Marines are using mine rollers to clear roads, Pelletier said.
Pelletier said U.S. forces are closing in on the area from the north and south and British forces are operating to the east in the Musa Qalah.
The U.S. troops include Marines and sailors from the Marine Expeditionary Brigade-Afghanistan. The British forces are from Task Force Helmand and are helping to clear insurgent forces in the Now Zad Valley.
The Marines said a company of Marines from the 3rd Battalion, 4th Marine Regiment, Regimental Combat Team 7 is stationed at a forward operating base in Now Zad with Afghan soldiers and police.
Earlier this year, U.S. Marines launched a major operation against Taliban fighters in the southern part of Helmand province called Operation Khanjar, or strike of the sword, and they helped Afghan forces conduct security operations for the presidential elections.
Khanjar took place not long after U.S. Gen. Stanley McChrystal took over as the allied commander in Afghanistan in June.
CNN's Frederik Pleitgen contributed to this report.