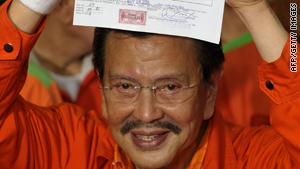 Joseph Estrada shows off his presidential candidacy certificate at the electoral commission on November 30, 2009.
STORY HIGHLIGHTS
Joseph Estrada files paperwork to again run for Philippine president
Estrada was accused of illegally acquiring $80 million during his 31 months as president
Critics say Estrada is ineligible to run in the May elections on constitutional grounds
President Gloria Macapagal-Arroyo files candidacy for congressional seat
(CNN) -- As one of the Philippines' biggest movie stars, Joseph Estrada cultivated an image of a tough but kindhearted hero who beat his adversaries in a rousing comeback at the end.
As the president of the country, Estrada was accused of acquiring billions in bribes, ousted after 31 months in office, sentenced to life in prison, but later pardoned.
On Monday, Estrada filed paperwork to again run for the highest office in the land, opting to highlight the Robin Hood persona of his films rather than his fall from grace.
"My party and I will fight for the downtrodden, the marginalized people," he told reporters as he turned in his certificate of candidacy at the Commission on Elections headquarters in Manila. "The fight is against the ruling elitist class."
Thousands of supporters gathered outside and cheered. Many helped him win the presidency in 1998 by a landslide.
Some critics have said that Estrada is ineligible to run in the May elections for two reasons: The country's constitution bars presidents from seeking re-election, and a condition of his pardon was that he would not seek public office again.
"But there is also a provision in the same section of the Philippine constitution which says one who has succeeded to the office of the president and has served for more than four years shall not be eligible to run for president. Joseph Estrada is contending that he did not serve four years. He served two-and-a-half," said Ferdinand Rafanan, the director of the law department for the Commission on Elections.
And though the condition of the pardon would seem to invalidate his candidacy, Estrada could explain it away.
"His lawyers would argue that everybody admits it was an absolute pardon and being an absolute pardon, there was supposed to be no condition at all," Rafanan said.
The election body is not expected to decide till the deadline for filing paperwork passes on Tuesday.
"The commission still has to give him an opportunity to give his side before it will issue any ruling," Rafanan said.
Estrada's careers have been punctuated by dramatic plot changes.
He started his professional life as a civil engineering college dropout looking for a break in the movies.
His father didn't think acting was a respectable job. So, Jose Ejercito was forced to drop his family name and adopt the stage name of Joseph Estrada, taking "Erap," or the Filipino word for "friend" spelled backward, as his nickname.
In the 1960s, Estrada headlined what are heralded as landmark Filipino films.
Over 32 years, he starred in 107 movies, molding his eventual political image as a man of the masses who beat his adversaries in the end.
He was elected to the Senate in 1987, as vice president in 1992 and as the 13th president of the Philippines in 1998.
His popularity as an actor contributed to him winning the largest majority vote in election history.
But what was to have been the dramatic crescendo of his career was drowned out by controversy. He was accused of illegally acquiring some $80 million during his 31 months in office, mostly from allegedly accepting bribes from gambling operators.
Even in the thicket of his political troubles, Estrada dreamed of returning to politics.
"My life is not yet over and my fight is not over," he told CNN in 2005.
"I would say that, as far as I am concerned, I would never stop fighting for the right of our people."
The country's deeply unpopular current president, Gloria Macapagal-Arroyo, also filed candidacy documents on Monday.
Barred by term limits from seeking the presidency in the May elections, Arroyo is vying for a congressional seat from her home province.
"As you know, people from my province of Pampanga (north of Manila) have asked me to stay in public service. So after much soul searching, I have decided to respond affirmatively to their call," she said in a radio interview with government station DZRB on Monday.
Many analysts have interpreted Arroyo's decision as a way to hold onto power, with some accusing her and and her party of trying to change the constitution and transform the Philippines into a parliamentary democracy.
In such a political system, the president is a figurehead and real power lies with the prime minister -- chosen from the ranks of parliamentarians.
Arroyo dismissed the contention in the interview.
"The situation is so hypothetical, I won't even bother to speculate on it," she said.
Arroyo also has battled corruption accusations, with her allies successfully defeating four attempts to have her impeached in the past four years.
She took office in 2001, after a military-backed popular revolt revolt ousted Estrada.
At the time, Arroyo was his vice president and she was the one who granted him his pardon.
CNN's Saeed Ahmed contributed to this report.
FOLLOW THIS TOPIC