STORY HIGHLIGHTS
More than 160 people perished in the coordinated attacks
The reign of terror stretched to 60 long hours
The attacks came to be known as "26/11"
Mumbai, India (CNN) -- A year on, cold beer is flowing again at the popular Leopold Cafe. Lovers stroll the arc of Marine Drive, taking in the sultry sulfuric air of the Arabian Sea. And the main train terminus is as busy as it appeared in "Slumdog Millionaire."
Mumbai is as it was -- bursting with life at every seam.
But a year on, Mumbaikers put life on pause to remember the five days when their city was paralyzed, when India's biggest metropolis and financial hub came under siege.
Ten gunmen arrived here with their weapons blazing to "wage war on India," as the government would later charge the sole surviving suspect.
We will not forget"
--wrote students on a wall
More than 160 people perished in the series of coordinated attacks -- at Chhatrapati Shivaji Station, the Leopold Cafe, a hospital, a Jewish center and luxury hotels.
And an eternal scar was etched on Mumbai's soul.
The reign of terror stretched to 60 long hours, the brutality broadcast around the world through television, mobile phones and Twitter.

Video: Terror suspect captured

Video: Fareed Zakaria on Mumbai

Video: Jewish orphan finds new life

Video: 'Hero of the Taj'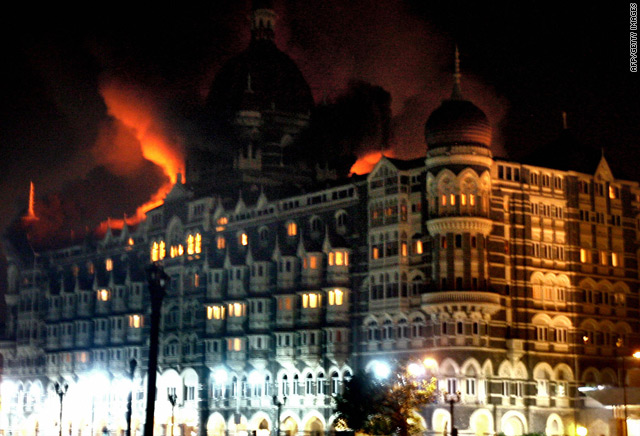 Timeline: Indian terror attacks
Thursday, survivors remembered the horror they endured. They saluted their heroes -- the police chiefs and security personnel who battled the terrorists -- and mourned their fallen citizens.
"26/11" was how it came to be known. "We will not forget," wrote students on a wall, stamping the cold concrete with crimson handprints.
Near the Leopold, someone hung a billboard on a residential building with a enormous photo of a noose. "Hang Kesab," it read, referring to Ajmal Amir Kasab, the only suspected gunman who survived to face a death penalty trial.
Just after sunrise, Mumbai police embarked on a flag march in the heart of the city. State government officials paid homage at the Oberoi-Trident, one of the hotels attacked a year ago. They unveiled a plaque in remembrance of those who died. Rows of white candles flickered in broad daylight.
The night before, Mumbaikers kept vigil in darkness with candles in front of the harbor-front Taj Mahal Palace and Tower Hotel, a beloved landmark still smeared by scaffolding. Five international designers are working to restore the splendor of the heavily damaged British Raj-era building.
At Mumbai's Jewish cultural center, Chabad House, rabbis roamed through rooms where pinging bullets made Swiss cheese of the walls.
Bollywood actor Akshay Kumar remarked that Mumbai never stops. It's a city that keeps moving on. Just as New York City did after the terrorist attacks in 2001.
iReport: One year later, a message of peace
But Thursday, with memories as vivid as bullet holes at Chabad House, Mumbaikers did stop to reflect.
CNN's Mallika Kapur contributed to this report.