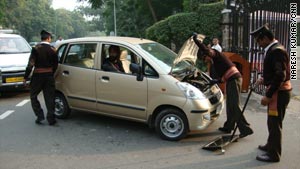 CNN's Harmeet Shah Singh driving into a luxury hotel in New Delhi in late November 2009.
STORY HIGHLIGHTS
Indian news channels first report violence as a gang war

Singh: No single source for hard, solid facts

CNN producer checks Web sites for authorities contact info

Singh turns home into news control room

New Delhi, India (CNN) -- I was eating dinner when my phone and Blackberry began buzzing. Colleagues on the other side of the planet were watching last year's terror attacks on Mumbai unfold.
Indian news channels first reported the violence as a gang war between underworld dons. But that theory evaporated once a top police official declared India's financial hub was besieged by terrorists.
The chaos intensified. Local anchors and reporters rattled off what they believed to be the latest updates.
At Mumbai's police control rooms, officers acknowledged to me they had nothing more to say than what they were seeing on television.
By that time, it was clear there was no single window on hard, solid facts. I had to reach out to several authorities.
That was the start of a grinding struggle for information -- credible details on what had happened, when, where and the elusive 'why.'
It was the first of those sleepless nights spent making hectic phone calls to numerous government officials, scribbling down notes and passing them on to colleagues already in Mumbai for a business show, as well as to the network.

Video: Memories of Mumbai

Video: 'Hero of the Taj'

Video: Mumbai survivor struggles

Video: Jewish orphan finds new life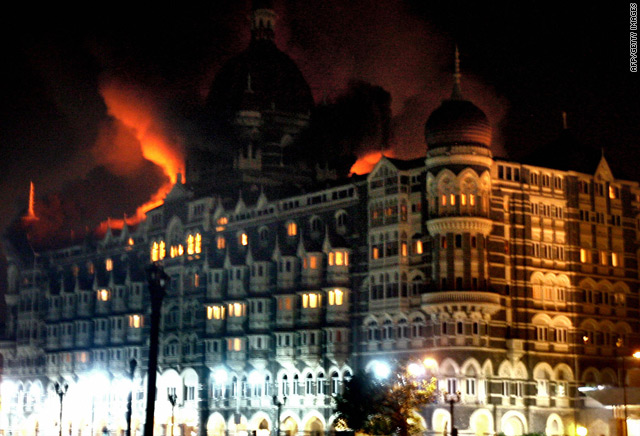 Timeline: Indian terror attacks
The next morning, Phillip Turner, CNN's New Delhi bureau chief, suggested I take on the role of a coordinator based out of New Delhi -- a link between Indian officials and the network.
It was then I discovered that a police administration built on a 19th-century colonial system and a tangled bureaucracy was struggling with the flood of information, but technology was filling the void.
Many authorities had their own Web sites with contact details listed. What I now needed were well-informed officials willing to talk.
I was able to find a few and after a few phone calls, they began supplying what proved to be unassailable information.
I next tried the hotels under attack, and was able get on-the-record confirmation that gunmen had laid siege to three hotels -- not two as several others were reporting.
Every minute was precious. It would have been unwise to hit New Delhi's congested roads to drive to the bureau. I then decided to work from home, which turned into a virtual news control room with me embedded in it.
I scanned news channels, wire reports and Web sites every few minutes, while ringing a long list of useful contacts and sending out quick e-mails whenever I would get a tip or learn about high-level government meetings.
Anxiety about my colleagues in Mumbai would be intense at times; my family was a great support.
A cartoon buff, my seven-year-old daughter left the TV room to me and my mother even walked to a nearby house of worship to ask them to lower the volume of their loudspeakers so I could work.
Monica, my schoolteacher wife, fed me bites of chapattis, or Indian bread. This was a routine that went on for days following the attacks.
It was my fourth month at CNN when the terrorists struck Mumbai --- a four-day, three-night attack now known as India's September 11 in which more than 160 people died.
iReport: One year later, a message of peace
On the ground, there was still no media management. Indian TV crews were jostling for sound bites from anyone in political power or uniform --- be it police or anti-terror commandos.
Officers on camera were giving contradictory statements -- one would say the siege had ended, another would say minutes later it had not.
Finally, it was declared over. But that was not the end of it.
Rather, the story moved in another direction -- involving a diplomatic back and forth between India and Pakistan.
But now, after sleepless nights and endless scrambling reaching out to multiple sources, I was better prepared to cover it.
FOLLOW THIS TOPIC