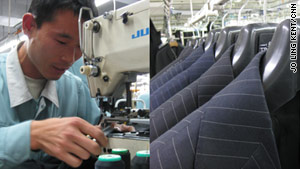 A man works in the Dayang Trands factory while Trands suit jackets hang on a rack.
STORY HIGHLIGHTS
Little-known Chinese company that began making clothing for peasants is a Buffett favorite
Dayang Trands is based in Dalian, China, a northeast port city known for manufacturing
Buffett has not invested but cannot seem to contain his praise for Dayang TrTrands
Dalian, China (CNN) -- Dayang Trands, a little-known Chinese company that began making clothing for peasants and now makes suits and separates for a slew of Western brands, is getting a lot of attention from one famous client.
Warren Buffett, better known for setting investment rather than fashion trends, cannot seem to stop talking about the company's in-house "Trands" label.
"I now have nine suits made in China. I threw out the rest of my suits," Buffett said in a video message for the company's 30th anniversary this year.
Dayang Trands is based in Dalian, China, a port city on the northeast coast known for manufacturing, petrochemicals and computer exports --- but not high fashion.
Buffett, ranked as the world's second-richest man by Forbes.com with a net worth of $37 billion, has not invested in Dayang Trands, but he cannot seem to contain his praise for their products.
"The suits we received we never had to alter a quarter of an inch," Buffett said in the video. "They fit perfectly. We get compliments on them. It's been a long time since I got compliments on how I looked."

Video: China's hot suits
It turns out Chinese President Hu Jintao wears Dayang Trands, too, and the company sells to clothiers such as Banana Republic, DKNY, Calvin Klein, Ralph Lauren, Macy's and Marks & Spencer.
China is better known for imitating luxury goods then selling them. However, Dayang Trands is an entirely home-grown Chinese luxury brand with original high quality products. The flagship store in Dalian could fit in well between Gucci and Prada.
The woman behind it all is Li Guilian, or "Madame Li," as she is called by her employees (and Buffett). She said she was just a farmer's daughter with a single sewing machine when she started making suits 30 years ago.
"At the beginning, we were a small countryside outfit," said Madame Li. "Our goal was to make sure poor peasants had enough clothes to wear. We made simple shirt sleeves, shoulder pads and work trousers, which people wore in the countryside while they worked. Little by little, we started sewing more difficult clothes."
Her company's launch coincided with China's long-isolated economy opening up to the world in the late 1970s. To advance her design and products, Madame Li led a small group of tailors to Japan, where they observed suit-making in a factory.
When the group returned to Dalian, they implemented what they learned and eventually started exporting to Japan. Now they make more than 15 million garments a year which they export around the world.
In a country where a large share of successful businesses are state-owned in some form, the charmed rise of a small, private company is unusual.
Perhaps one of the best decisions the company ever made was to track down Buffett and get his measurements. He happened to be in Dalian for the opening of a metals factory, one of the latest acquisitions of his investment company, Berkshire Hathaway Inc.
"I asked if I could make a couple of nice suits for him," said David Margalit, Dayang Trands' international marketing director. "We took our tailors in and measured him, and introduced him to Madame Li."
Six months later, Margalit received a letter from Buffett asking for six more suits.
Buffett invited Madame Li to the annual meeting of Berkshire Hathaway in Omaha, Nebraska, last May where he touted her suits and her success.
Buffett claims his business partners and Bill Gates now wear Trands too.
"I think maybe Bill Gates and I should start a men's clothing store and sell the suits made by Madame Li," he said in the video. "I think we would be great salesmen because we love them so much."
Buffett's endorsement has given the company a major boost, Madame Li said.
"Warren Buffett chooses Trands suits like he chooses stocks," she said. "He knows we have a bright future ahead."