Pentagon names soldiers missing in Afghanistan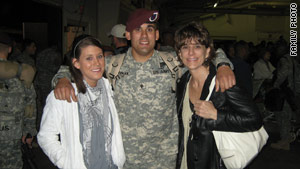 Ben Sherman, 21, of Plymouth, Massachusetts, disappeared November 4 in Afghanistan.
STORY HIGHLIGHTS
Two sergeants disappeared near border with Turkmenistan this month
Divers found body of one last week
Family said he jumped into river after seeing fellow soldier struggle
(CNN) -- The Pentagon on Wednesday identified two U.S. soldiers who disappeared in Afghanistan this month, announcing the death of one of the men and saying that the whereabouts of the other remain unknown.
Both soldiers from the 4th Brigade Combat Team, 82nd Airborne Division disappeared in the Morghab River near Afghanistan's border with Turkmenistan on November 4.
The Pentagon announced the death of Army Sgt. Benjamin Sherman, 21, of Plymouth, Massachusetts. Army Sgt. Brandon Islip, 23, remains missing. Islip is from Richmond, Virginia.
Both men were on a resupply mission when they disappeared, the Pentagon said.
Last week, military divers found Sherman's body. Family members said he jumped into the river when he saw a fellow soldier struggling in the water.
"I know, that day, he jumped into the river to try to save his comrade was because he didn't just see another soldier in the water; he saw his brother," Sherman's sister, Meredith, said in a statement to CNN affiliate WCVB in Boston, Massachusetts.
"He didn't jump in because he was trained to but because that's what his heart told him to do."