No climate-change deal likely by year's end, officials say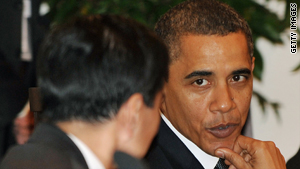 President Obama says he hopes the upcoming Copenhagen summit will lead to a long-term global warming accord.
STORY HIGHLIGHTS
World leaders say Copenhagen summit will not result in new climate-change accord

President Obama wants to use December summit to spur further talks

Danish PM Rasmussen offers two-step strategy aimed at creating long-term deal

Singapore (CNN) -- President Obama and leaders from the rest of the world's top economic powers acknowledged Sunday that there's no hope of a major breakthrough over climate change by year's end.
The acknowledgment followed Danish Prime Minister Lars Lokke Rasmussen telling the leaders gathered for the APEC summit in Singapore that next month's conference in Copenhagen, Denmark, is no longer likely to yield a major accord to battle global warming.
Mike Froman, a White House deputy national security adviser, told reporters that none of the leaders at the Asia-Pacific Economic Cooperation Forum "thought it was likely we would reach a final agreement in Copenhagen, and yet they felt it was important that Copenhagen be a step forward."
As a result, Obama and other leaders are endorsing a new two-step process that aims to use Copenhagen as a stepping stone for a bigger accord down the road.
Obama made a surprise appearance at a breakfast devoted to climate change at the APEC summit in Singapore on Sunday, and Froman said the president told the other leaders it's important for at least some progress to be made next month.

Video: Trade and climate top summit

Video: Obama reaches out to Asia
"The president spoke about the importance of achieving success in Copenhagen," Froman said.
But the definition of "success" seems to be changing. Rasmussen briefed the leaders on preparations for the long-awaited international conference in his homeland and drastically scaled back expectations. Rasmussen unveiled a strategy that he dubbed "one agreement, two steps," aimed at putting together a deal over a longer period.
Froman said the first step would be to have all 191 countries involved in the Copenhagen summit signing on to a framework that includes key ingredients such as how to finance the coordinated effort to battle climate change. The second step, a binding deal on cutting carbon emissions, would be hashed out in further negotiations.
"I think the two steps was meant to reflect the realistic assessment that it was unrealistic to expect a full legally binding international agreement to be reached between now and when Copenhagen starts in 22 days," Froman said Sunday.
Froman said Obama endorsed the two-step process, but the president still will not say whether he will attend the Copenhagen summit. Former Vice President Al Gore and other luminaries have lobbied Obama to attend, saying it would send a strong signal to the world about America's commitment to forging a deal.
Meanwhile, in an official declaration released Sunday, the 21 nations that form APEC vowed to "work towards an ambitious outcome in Copenhagen," a vague promise that reflects how far from concrete action that the world's leading economies still find themselves.
The leaders also reaffirmed a promise they made at a summit in 2007 to reach "an APEC-wide aspirational target of reducing energy intensity by at least 25 percent by 2030."