Suicide car bomb in Pakistan kills 11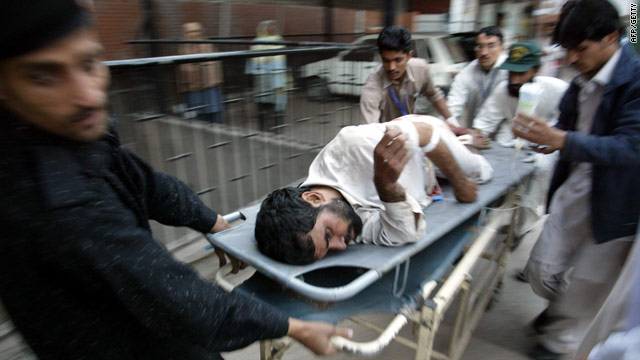 STORY HIGHLIGHTS
Attack marks the second straight day of major violence in the area

Taliban claimed responsibility for Friday's dual bombings, which killed at least 17

Official: Dead include three women, three children, one policeman

Police: Blast occurred near a police checkpoint in neighborhood of Pushtakhara
ISLAMABAD, Pakistan (CNN) -- A suicide car bomber who blew himself up at a police checkpoint Saturday in Peshawar killed 11 people and wounded 26 -- marking the second straight day of major violence in the area, authorities said.
Shafi Ullah, deputy superintendent of police, said authorities had stopped the bomber at the post when the explosion occurred, killing three women, three children, a policeman and four other men.
The blast occurred near a police checkpoint in the neighborhood of Pushtakhara, said Peshawar police officer Idrees Khan. He said 50-60 kilograms of explosives (110-132 pounds) were used in the bomb.
Peshawar -- the capital of the North West Frontier Province -- has repeatedly come under attack in recent days. Intelligence officials say the attacks are retaliation against an army offensive to rout militants from their havens along the Pakistan-Afghanistan border.
Peshawar is about 120 kilometers (75 miles) northwest of the Pakistani capital, Islamabad.
No one claimed responsibility for Saturday's blast.

Video: Pakistan blast
However, Taliban senior commander Qari Hussein said Saturday that the Taliban claimed responsibility for Friday's dual bombings, which killed at least 17 people, including security officials, in Peshawar and nearby Bannu. Dozens of people were wounded.
Hussein told CNN there will be more such attacks in the future, and that their intensity will be much greater.
On Thursday, a Pakistani working for the Iranian consulate was shot and killed in northwestern Pakistan, police said.
Hussein said that during the ongoing military operation in South Waziristan, only 14 Taliban have been killed. Those, too, have been suicide bombers, he said.
He criticized the Pakistan army, saying it has fallen prey to disorder and confusion and will not be able to effectively fight the Taliban.
Hussein said militants plan to target political parties that have taken an anti-Taliban position, and said their illusion that the government will protect them is incorrect.
"We will be able to take them out," he said.
The victor will become the real leader of Waziristan; that could be the government, the army or the Taliban, Hussein added.
Journalists Nasir Habib, Nazar Ul Islam and Nazar Ul Islam contributed to this report.