17 dead in Pakistani car bombings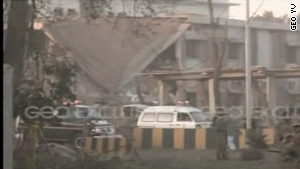 The scene of the explosion in Peshawar on Friday.
STORY HIGHLIGHTS
At least 17 dead, dozens wounded in two car bombings in northwest region
800-pound bomb hits Inter-Services Intelligence's provincial headquarters
Witness says he heard gunfire, then blast, which shattered windows of his house
In Bannu District, suicide bomber rams car into police station, killing 7 police officers
Islamabad, Pakistan (CNN) -- A pair of bombings in Pakistan killed at least 17 people, including security officials, and wounded dozens of others Friday, officials said.
Ten people died and at least 60 were wounded when a massive car bomb targeted the intelligence agency that plays a central role in Pakistan's anti-terrorism campaigns, said Mian Iftikhar Hussain, information minister for North West Frontier Province.
The 800-pound bomb ripped through the Inter-Services Intelligence's provincial headquarters, collapsing large parts of the multistory building in central Peshawar.
Hussain said seven of the dead were security officials and several others were thought to be buried under the rubble. Rescue teams were working to remove debris to find survivors.
Ayub Shah, whose house is about one-tenth of a mile from the blast site, said he had just come home from morning prayers when he heard gunfire. That lasted about a minute, then he heard the blast, which shattered windows at his house.
A second explosion hit North West Frontier Province's Bannu District, southwest of Peshawar. In that attack, a suicide bomber rammed his car into the Bakka Khel police station, killing seven, five of whom were policemen, and injuring 23 others, said Bannu police Officer Oranzed Khan.
CNN's Samson Desta and journalists Nasir Habib and Nazar Ul Islam contributed to this report.