Deadly car bombs explode in Peshawar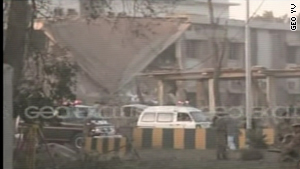 The scene of the explosion in Peshawar on Friday.
STORY HIGHLIGHTS
NEW: Eight killed from pair of bombings in Pakistan, officials say
NEW: Attack in Peshawar appears to have targeted intelligence agency, official says
NEW: Witnesses say they saw badly wounded people at the scene in Peshawar
NEW: Two police officers killed in Bannu District after car rams into headquarters, police say
Islamabad, Pakistan (CNN) -- A pair of bombings in Pakistan killed 10 people and wounded dozens of others Friday, officials said.
Eight people died and at least 31 were wounded when a car bomb tore through central Peshawar in North West Frontier Province. An intelligence agency seemed to have been the target, said District Coordination Officer Peshawar Shahibzada Anis Khan.
Witnesses told CNN affiliate GEO TV that they saw badly wounded people at the scene near an intelligence building in the center of Peshawar.
In North West Frontier Province's Bannu District, southwest of Peshawar, a suicide bomber rammed his car into the Bakka Khel police station, killing two policemen and injuring 23 others, said Bannu police Officer Oranzed Khan.
CNN's Samson Desta contributed to this story from Islamabad.