Cambodia refuses to extradite Thaksin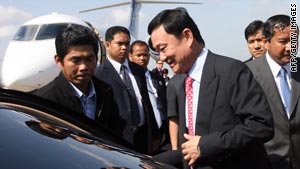 Former Thai prime minister Thaksin Shinawatra arrives at a military air base in Phnom Penh.
STORY HIGHLIGHTS
Thai foreign ministry says Cambodia has rejected extradition request
Thaksin has arrived in Cambodia after being hired as economic adviser
Thaksin fled Thailand last year while awaiting trial on corruption charges
Bangkok, Thailand (CNN) -- Cambodia has refused a request by Thailand to extradite ousted Thai Prime Minister Thaksin Shinawatra so that he can be tried on corruption charges.
The Thai foreign ministry said Wednesday that it had received a letter from the Cambodian government, rejecting its request.
Thani Thingpakdi, the deputy spokesman for the ministry, said Cambodia had outlined several reasons for its denial, but he would not offer details.
Cambodia further infuriated Thailand by hiring Thaksin as an economic adviser. He arrived in the capital, Phnom Penh, on Tuesday to begin his new job.
In protest, Thailand withdrew its ambassador to Cambodia. Cambodia, in turn, pulled out its top diplomat to Thailand.
Relations have been tense between neighboring Cambodia and Thailand, with their respective forces clashing several times in recent months over a disputed temple that sits on their border.
Thailand also has suspended a memorandum of understanding with Cambodia, an agreement that governs a waterway shared by the countries, said Panitan Wattanayakorn, a Thai government spokesman.
Thaksin, a billionaire businessman who served two terms as prime minister, was ousted in a bloodless coup in 2006. Thaksin fled Bangkok last year while facing trial on corruption charges that he said were politically motivated.
He remains a controversial figure in Thailand, and there have been violent clashes in the country between pro and anti-Thaksin groups.
CNN's Kocha Olarn contributed to this report.