2 U.N. staffers killed by Taliban were working on runoff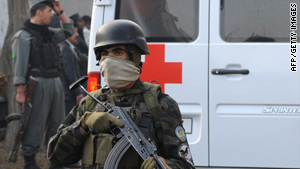 An Afghan police officer guards an ambulance carrying victims of the attack that killed five U.N. personnel.
STORY HIGHLIGHTS
Five U.N. workers were killed this week by Taliban gunmen in Afghanistan
Two of those workers were helping the Afghan government prepare for runoff election
U.N. Secretary-General Ban Ki-Moon says U.N. considering consolidating staff

UNITED NATIONS (CNN) -- Two of the five United Nations personnel killed this week in an attack by Taliban gunmen were helping the Afghan government plan for the November 7 runoff election, U.N. Secretary-General Ban Ki-Moon said Friday.
Ban said two other victims who died in Kabul were security staff, and one has yet to be positively identified. Ban spoke at a town hall meeting of U.N. staff in New York.
He previously had called for additional security for U.N. staff in Afghanistan, citing a "dramatically escalated threat" due to the world body's support for that nation's electoral process.
Afghan President Hamid Karzai, who failed to receive at least 50 percent of the votes in his bid for re-election, will face Abdullah Abdullah in a runoff.
Thursday, at an emergency meeting at the United Nations' New York headquarters, the U.N. Security Council issued a "presidential statement" unanimously condemning the Taliban attack. The council also reiterated its support for the secretary-general and all U.N. personnel in Afghanistan.
Ban said Thursday that the United Nations is considering "consolidating U.N. staff in Kabul and around the country." He said his personnel are now considered "soft targets" by militants in Afghanistan.
In addition to the five deaths, nine people were wounded in the attack Wednesday.