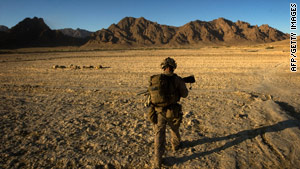 A U.S. Marine patrols in the Farah Province in southern Afghanistan October 9.
STORY HIGHLIGHTS
Eight troops killed by roadside bomb attack Tuesday in Afghanistan
IEDs are short for improvised explosive device
Military official says IEDs are the "number one threat"
Washington (CNN) -- The most dangerous threat for U.S. troops in Afghanistan has come from roadside bombs -- often referred to as IEDs, short for improvised explosive devices.
A roadside bomb attack killed eight U.S. soldiers in southern Afghanistan, along with an Afghan civilian working with NATO troops, U.S. military officials said.
IEDs in Afghanistan are the "number one threat," said Adm. Mike Mullen, chairman of the Joint Chiefs of Staff, and account for "70 to 80" percent of casualties according to Lieutenant Gen. Thomas Metz, director of the military's Joint Improvised Explosive Device Defeat Organization.
The Pentagon has said that since 2007, the number of IEDs in Afghanistan has jumped 350 percent. While many are found before they detonate, the number of troops killed has increased by more than 400 percent and the number wounded is up more 700 percent over the last two years.
Last month, U.S. Defense Secretary Robert Gates approved a deployment of up to 3,000 U.S. troops to Afghanistan to deal with the growing threat from roadside bombs.
And since the spring the Pentagon has sent 3,416 of the regular Mine-Resistant Ambush Protected (MRAP) vehicles and 12 new Multipurpose All-Terrain Vehicles (MATV) designed to protect against roadside bombs.
Pentagon spokesman Geoff Morrell said at the time that Gates determined that "this is a requirement that needs to be fulfilled. The forces there now require more IED protection."

Video: Two bombs targeted troops

Video: Afghan backlash over US help
Metz said Tuesday that IEDs are "much more primitive in Afghanistan" because they use "less military munitions and more homemade explosives."
But he said that while the military has been able to disarm many IEDs, the big challenge going forward is detecting devices using tiny wires.
But he is confident that the military will soon be able to detect wires and other challenges through the use of new programs and military exercises.
He said that if President Obama decides to send more troops to Afghanistan, there will likely be more IED attacks.
The Taliban's capacity to manufacture bombs, train attackers and target U.S. troops has grown over the past year, officials have noted.
Officials told CNN that Tuesday's attack was complex -- multiple bombs and small arms fire used at the same time.
Afghanistan's rugged terrain have made it easy for insurgents to hide roadside bombs in a short period of time.
"You have disturbed earth all the time," Gen. Montgomery Meigs, former head of the Department of Defense's IED Task Force said last month. "Especially close to villages and close to intersections -- that just makes the seeing and finding, even by soldiers' eyes, a lot more complicated."
The southern area of Afghanistan is notoriously dangerous for U.S. troops. The area around Kandahar is filled with a large contingent of Taliban aimed at ridding the area of U.S. troops, one expert said.
"A lot of the Taliban headquarters is in Kandahar among the Pashtuns. They do have a deeply felt antagonism of anyone trying to control them or occupy their government," said Steve Clemons, an expert on Afghanistan for the non-partisan New America Foundation.
Tuesday's attacks happened a day after 14 Americans were killed in a pair of helicopter crashes in Afghanistan. It was the largest number of Americans killed in Afghanistan in a single day in more than four years.
With the deaths of two troops on Sunday, a total of 24 Americans -- most of them military -- have been killed in a 48-hour period. That makes October 2009, with 58 fatalities, the deadliest month for the U.S. military since the Afghanistan war began in October 2001.
CNN's Mike Mount contributed to this report.
FOLLOW THIS TOPIC