Quake strikes deep in the eastern waters of Indonesia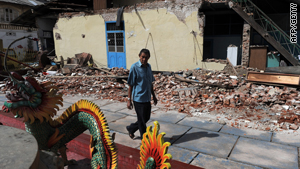 Saturday's quake is not predicted to cause the kind of damage that followed a similar strength eruption in Indonesia on September 30.
STORY HIGHLIGHTS
Major earthquake erupts in Indonesia's Banda Sea
Though it was of magintude 7, the quake occured too deep inside the earth to generate a Tsunami
Latest quake follows an eruption on Friday near north coast of Papua, Indonesia
(CNN) -- A major earthquake vibrated deep in Indonesia's Banda Sea on Saturday night, but the Pacific Tsunami Warning Center predicted the quake would not be destructive.
"This earthquake is located too deep inside the Earth to generate a tsunami in the Indian Ocean," the center said.
The magnitude-seven quake reached a depth of 138.5 kilometers (86 miles), and was 232 kilometers (144 miles) north-northwest of Saumlaki in Indonesia's Tanimbar Islands, according to the U.S. Geological Survey.
The quake hit at 11:40 p.m. (11:40 a.m. ET).
On Friday night, an earthquake struck near the north coast of Papua, Indonesia, but no tsunami warning was issued, the head of the nation's meteorological agency said. Papua police reported one injury.