BANGKOK, Thailand (CNN) -- Thailand's King Bhumibol Adulyadej, the world's longest-reigning monarch, emerged from a hospital for the first time Friday since seeking medical attention more than a month ago.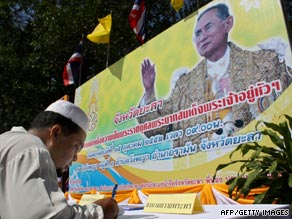 A well-wisher signs a get well petition for Thailand's King Bhumibol Adulyadej.
The 81-year-old appeared outside the Bangkok hospital as onlookers shouted, "God bless the King." He was wheeled to an outdoor area of the hospital, where he paid respects to a statue of King Rama V. He then paid respects to a portrait of his late mother.
The monarch's appearance was televised on local stations.
He was admitted to the hospital on September 20 after complaining of fever and fatigue.
The king was formally crowned on May 5, 1950. Thailand abolished absolute monarchy in the 1930s, so the king wields little political power. But he is revered and enjoys immense popularity.
E-mail to a friend