From Jill Dougherty
CNN Foreign Affairs Correspondent





WASHINGTON (CNN) -- In a blizzard of personal meetings in Kabul, Afghanistan, and in telephone conversations from Washington, U.S. officials lobbied Afghan President Hamid Karzai to abide by the nation's constitution and accept a runoff election.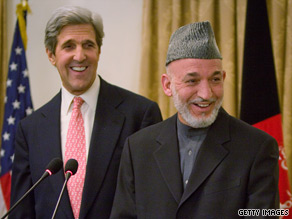 Sen. John Kerry, left, coordinated his discussions with President Hamid Karzai with Washington, sources say.
Karzai announced Tuesday that he will take part in a presidential runoff vote in two weeks.
Senior State Department officials say Secretary of State Hillary Clinton spoke with Karzai and with his main challenger, Abdullah Abdullah.
One official told CNN that in a phone call to Karzai on Friday, Clinton urged the Afghan president to "be a statesman."
The secretary told him that she understood his concerns about how the process of establishing fraud in the election was carried out, this official said, but told him, "You can emerge stronger from this and cement your position as leader."
Clinton mentioned to Karzai a CNN interview she had done that morning in which she predicted Karzai was likely to be the winner in a runoff. "By doing this you are likely to be stronger," the official said Clinton told Karzai.
Karzai feared that Pashtuns who had voted for him would feel disenfranchised. "Karzai needed to work through the internal politics of this," the official said.
Clinton, as both a diplomat and a former politician, was able to use her experience to make her case with Karzai, the official said.
Clinton also held a series of discussions by phone with U.S. Ambassador to Afghanistan Karl Eikenberry, Sen. John Kerry, D-Massachusetts, and U.S. special envoy Richard Holbrooke.
Sources with knowledge of events in Kabul said Kerry, who was in Afghanistan over the weekend, held a series of intensive discussions with Karzai at his palace in Kabul. Kerry's efforts were in "absolutely close coordination" with Clinton, one senior official said.
Holbrooke briefed Kerry before the senator left on his trip to Afghanistan, one source said, and "came up with a strategy of how to get to a second round of voting."
The source also said Clinton called Senate Majority Leader Harry Reid and asked his permission for Kerry to remain in Afghanistan during the talks, something that would require him to miss votes in the Senate.
Sources say Karzai's main concern was that the election had removed 1.3 million ballots because they had been found to be fraudulent. He questioned the criteria for making that determination and feared the reaction from his Pashtun supporters.
Throughout his trip, in which he traveled from Kabul to Islamabad and back again, Kerry remained in close contact with Clinton, the senior official said. Kerry canceled a return to Washington in order to stay on in Kabul.
Kerry met with Abdullah as well as with Karzai, the official said, explaining, "We were not trying to work out a deal, but we were urging them to work together."
In making the announcement Tuesday, Karzai said he was putting his country's interests over his own.
"It was not important who the winner is, and we need to leave this to the people of Afghanistan to judge who the winner was," Karzai said through an interpreter at a news conference.
Karzai spoke shortly after Afghanistan's Independent Election Commission certified the election results, which gave him less than the 50 percent needed to avoid a runoff. The commission set November 7 as the date for a second round of voting between Karzai and Abdullah, commission spokesman Mohammed Farid Afghanzai said.
The U.N.-backed Electoral Complaints Commission had invalidated nearly a third of Karzai's votes from the August 20 presidential election because of "clear and convincing evidence of fraud."
E-mail to a friend

All About Afghanistan • Hamid Karzai • Hillary Clinton • John Kerry