BEIJING, China (CNN) -- China hosted Japan and South Korea on Saturday for the second trilateral leaders' meeting, state-run media said.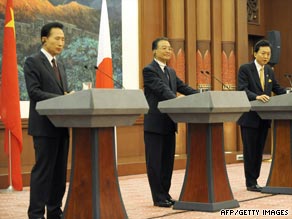 From left: S. Korean President Lee Myung-Bak, Chinese Premier Wen Jiabao, Japanese PM Yukio Hatoyama in Beijing, China, on October 10.
The meeting in Beijing was chaired by Chinese Premier Wen Jiabao, according to China's Xinhua news agency. South Korean President Lee Myung-bak and Japanese Premier Yukio Hatoyama also attended.
"This year marked the 10th anniversary of the launch of a trilateral cooperative mechanism ... a milestone in the cooperation among the three countries," Wen said.
Lee urged the three countries to team up to tackle the denuclearization of North Korea, fight financial woes and address issues that would benefit the region, Xinhua reported.
North Korean leader Kim Jong-il has indicated that the reclusive nation is willing to participate in bilateral talks with the United States and return to six-party talks over its nuclear program.
The continued shift in North Korean attitude came after Wen's visit to Pyongyang last week.
North Korea pulled out of the talks in April in protest of the United Nations' condemnation over its nuclear test and missile launches.
The leaders of the three nations also discussed beefing up trilateral ties. China, Japan and South Korea, core east Asian nations, should strengthen cooperation in economy, culture, society and youth, Hatoyama said.
"This year is also crucial for us to cope with the international financial crisis and resume economic growth," Hatoyama said, according to Xinhua.
The three leaders are scheduled to meet again later this month in Thailand.
E-mail to a friend

All About South Korea • North Korea • China