By Arwa Damon
CNN





PADANG, Indonesia (CNN) -- Harayenti's voice starts out strong as she speaks about the moment the major earthquake struck last week.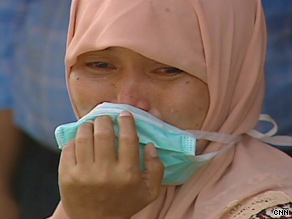 Harayenti's mother died in the quake at the produce market where the family ran a stall.
"My only thought was 'run, run,'" she said. "I jumped from the top of the staircase screaming 'Daddy.'"
But the 38-year-old woman can hold it together for only so long before the anguish takes over.
"He thought my mother was with me, but then we realized that my mother is missing," she said, choking on tears.
Harayenti's family owned a small stall inside what once was a two-story produce market. They were sitting around chatting with customers when the 7.6-magnitude earthquake struck Wednesday.

Watch CNN's Arwa Damon speak with Harayenti »
The roof -- one massive slab of concrete -- collapsed, crushing everything beneath it. Anyone who may have survived that or was trapped on the lower level was burned to death in a fire that broke out two hours later.
Search teams peer through the pancaked layers, looking for bodies, but keep signaling "no, nothing here," as heavy machinery pounds away at the rubble. Smoke rises as fires smolder underneath it.
The likelihood of finding any bodies is slim. There appear to be only ashes.
On the outer fringes of the fallen market, those who survived are peddling their wares. Brightly colored umbrellas protect vendors from the glaring sun as they sell clothing, along with fruits and vegetables.
It forms a kaleidoscope of colors and life that jumps out against the dismal gray of the scene of death in the background.

Watch aftermath at home leveled by quake »
On a side street, Harayenti sits with her friends, weaving one of the small palm leaf baskets used to make rice cakes. Her mother's body was one of the few eventually recovered from the debris. The family has had no luck finding her uncle's body.
"I couldn't stand it, seeing my mother burnt," she said, as tears streamed down her face. "Now everyone who comes by here just covers their face."
The equipment digging through the rubble kicks up a suffocating amount of dust, but there also are the stench and smoke from the fires.
Officials are uncertain how many have died, but the estimates are in the hundreds.
The official death toll from all last week's quakes was at 608 as of Monday. The National Agency for Disaster Management said 343 people had been reported missing, 285 of them in the Pariaman region of West Sumatra. Ade Edward, head of rescue operations, estimated the actual number of missing could be closer to 1,000.

For Harayenti, her mother's death is the only one that matters.
"A parent's love -- I won't get it from anyone else. My mother gave her children everything."
E-mail to a friend

All About Earthquakes • Indonesia • United Nations