APIA, Samoa (CNN) -- Military officials hurried relief supplies to the tsunami-battered areas of the Samoa islands on Thursday as the death toll continued to rise and authorities prepared to hold a mass burial.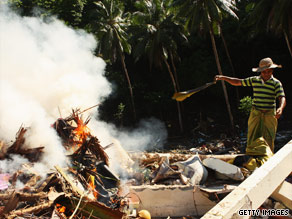 A man throws rubble onto a fire burning on what used to be his parents' home in Samoa.
Samoa Prime Minister Tuilaepa Malielegaoi said 139 people were killed on the island from the tsunami that was triggered by a 8.0-magnitude earthquake earlier in the week. That put the death toll from the disaster at 168, with 22 people killed in nearby American Samoa and seven in Tonga.
The Samoan government was planning a ceremony and mass burial Tuesday for the victims, Malielegaoi said
The prime minister said he toured some hard-hit coastal areas of Samoa and said areas once known for resorts were destroyed.
"There is complete devastation of several villages," Malielegaoi said. "There are families without anything. Everything has been washed away."

Samoa's prime minister talks about the devastation »
For those that survived, there were harrowing tales of outracing the killer wave.

Watch the tsunami take over a street » |

CNN visits a destroyed fishing village »
British tourists Becky Glew and Helen Wright said they had little warning when the tsunami headed toward the resort they were staying at.
"You could hear the wave coming and the noise was deafening. And you could hear buildings crashing," Glew told CNN affiliate ITN.
Wright described her escape from the wave. She said she climbed a soggy mountainous area and that she had reached an area that was high enough to be safe.

"And then somebody started screaming there is another wave coming," Wright said. "So I climbed up higher. Thank God I did because when the second wave came it swept away where I had been standing."

Watch a villager in American Samoa talk about the tragedy »
The U.S. Coast Guard said Thursday it was flying a second helicopter to the battered areas with 9,500 pounds of medical supplies.
E-mail to a friend

All About American Samoa • Samoa • Tonga • Natural Disasters