ISLAMABAD, Pakistan (CNN) -- Seventeen people were killed Saturday in three separate blasts in northwest Pakistan, police said.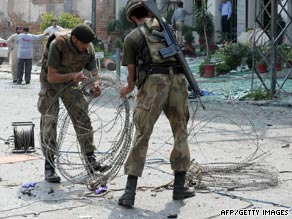 Soldiers secure a site where a bomb blast took place in Peshawar, Pakistan, on Saturday.
At 7 a.m., six people died when a police station in the Bannu district of North West Frontier Province was targeted by a suicide bomber, said Bannu Police spokesman Muhammad Ghulam. The bomber was also killed, Ghulam said.
Four other policemen were missing, he said. Of the 57 wounded, 29 are police and 28 are civilians, he said.
The bomber was in a truck that was packed with an estimated 160 kg (353 pounds) of explosives, police said. Dozens of nearby shops and buildings were destroyed.
A suspect was arrested near the Maidan police station.
Another 10 people were killed and 72 were wounded in the provincial capital of Peshawar when a bomb exploded just before noon in the central business district, Peshawar police spokesman Akhtar Ali said.

Watch CNN's Reza Sayah on the bombings »
The blast occurred near a state-owned bank and a military hospital in Peshawar's Saddar market. Police arrested two suspects at the scene but did not say how they might have been connected to the attack.
The head of Peshawar police's bomb disposal squad, Shafqat Malik, told CNN affiliate Geo TV that the Peshawar blast was the work of a suicide bomber whose car was packed with about 100 kg (220 pounds) of explosives.
Seconds before the bomb detonated, the suicide attacker lobbed several grenades from the car in an apparent attempt to clear his way and get closer to his target, Malik said.
Government official Sahibzada Anis Khan told CNN that the grenades did not explode.

Police said the intended target was not immediately clear.
Yet another attack occurred at 1:35 p.m. when a bomb exploded inside a bookstore in the Nasim Chowk area of Gilgit City. One person -- a store salesman -- was killed and five others were wounded.
E-mail to a friend

CNN's Reza Sayah and journalist Nasir Habib contributed to this report.
All About Pakistan • War and Conflict • Terrorism