(CNN) -- Myanmar's imprisoned pro-democracy leader Aung San Suu Kyi said Thursday she accepted a new shift in U.S. policy toward her country, her spokesman said.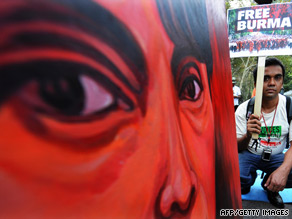 Protesters demand release of Aung San Suu Kyi in front of the United Nations in New York on Wednesday.
"It's a good thing, I accept that, but it must be the right engagement on both sides of the junta and the opposition," Suu Kyi said in a statement released through her attorney and party spokesman U Nyan Win.
U.S. Secretary of State Hillary Clinton announced Wednesday that the United States will try to directly engage with the military leaders of Myanmar, also known as Burma, without abandoning its existing sanctions on the southeast Asian country.
"We believe that sanctions remain important as part of our policy, but by themselves, they have not produced the results that had been hoped for on behalf of the people of Burma," Clinton said after discussing the issue at the United Nations General Assembly meeting.
"Engagement versus sanctions is a false choice, in our opinion. So going forward, we will be employing both of those tools, pursuing our same goals."

Watch Clinton explain the change in U.S. policy »
Clinton said her announcement is part of a policy review announced in February, and she would provide more details in the coming days. That policy review was slowed down in May when Suu Kyi was placed under house arrest again, according to a senior State Department official who talked to reporters on Wednesday after Clinton spoke. The official spoke on the condition that he was not named.
He added that Washington would only consider lifting sanctions "if Burma made progress toward addressing our concerns on the core political issues."
"But at this point, they haven't made any such progress," the official said.
Clinton stressed that the United States is not changing its goals with regards to Myanmar:
"We want credible, democratic reform; a government that respond to the needs of the Burmese people; immediate, unconditional release of political prisoners, including Aung San Suu Kyi; serious dialogue with the opposition and minority ethnic groups," she said.
Suu Kyi has staunchly opposed lifting any sanctions against the current regime in Myanmar. She plans to release her new policy on sanctions Friday, U Nyan Win said.
The Nobel Peace Prize winner was sentenced to 18-months of house arrest after John Yettaw, an American man, swam uninvited to Suu Kyi's home in Yangon where she has been under house arrest for 14 of the past 20 years. She is appealing her sentence, and a court in Yangon is expected to decide on that appeal next week.
Last month, U.S. Senator Jim Webb became the first American official to meet with Myanmar's junta leader, Senior Gen. Than Shwe, when he went to the country last month to secure Yettaw's release.
Webb said during his meeting with Suu Kyi that the pro-democracy leader may agree to support lifting some economic sanctions if the issue of restoring democracy is properly addressed.
Suu Kyi said Thursday that she and the Virginia Democrat discussed more interaction between the United States and Myanmar.
Neither Clinton nor the senior State Department official would not elaborate on how the newly announced U.S. engagement policy with Myanmar would be different from the current approach. The official would only say that it would occur "at a higher level than it has been."
The United States currently has an embassy and a charge d'affaires in Yangon and Myanmar has a top diplomat in Washington.
"We expect the Burmese will be designating someone who would be an interlocutor for us," the official said. "And so we have to just kind of take it one step at a time.

When asked if Washington would also appoint an "interlocutor" for Myanmar, the official said, "We will certainly have someone who would be available to talk. But .. I don't know that we're going to designate, officially, an interlocutor."
The senior official said "we're still looking at" the possibility of meeting with Myanmar's leaders either in Myanmar or on the sidelines of the U.N. General Assembly this week in New York
E-mail to a friend

CNN's Kocha Olarn contributed to this report.
All About Myanmar • Aung San Suu Kyi • International Relations • Hillary Clinton