By Harmeet Shah Singh
CNN





NEW DELHI, India (CNN) -- A 43-year-old woman convicted in the assassination of former Indian Prime Minister Rajiv Gandhi on Wednesday ended her hunger strike after authorities agreed to review her demand for early release.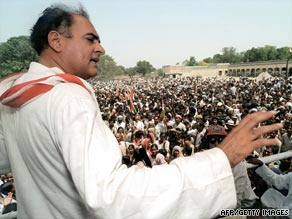 Nalini Sriharan received a death sentence in 1991 for plotting to murder former Indian Prime Minister Rajiv Gandhi.
Nalini Sriharan, who has been in jail for 18 years, went on a fast Monday, said Jaya Bharathi, superintendent of Vellore prison in southern India.
Convicted of plotting the murder of Gandhi in a suicide bomb attack in 1991, she received a death sentence along with her husband and two others.
Sriharan's sentence was commuted to life imprisonment on a mercy petition by Sonia Gandhi, the Italian-born widow of the slain former prime minister.
The other three remain on death row.
In India, a lifer becomes eligible for early release after serving 14 years, Bharathi said.
Authorities would consider setting up an advisory board on Sriharan's demand, Bharathi added.
"She ended her fast today and had her breakfast and lunch," Bharathi told CNN.
India accused Sri Lanka's Tamil rebels of ordering the killing of Rajiv Gandhi, who had sent Indian peacekeepers to the restive island nation while in power.
E-mail to a friend

All About Rajiv Gandhi