(CNN) -- A powerful earthquake registering magnitude 6.4 struck the Indonesian island resort of Bali, leaving seven people hospitalized early Saturday, the head of the Health Ministry's crisis center said.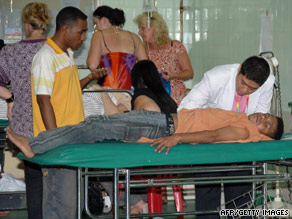 An doctor in Bali, Indonesia, treats a man injured during the earthquake on Saturday.
"The tremor was very strong," Rustam Pakaya wrote in a text message to journalists in citing a field report, adding that the hospitalized victims had "broken bone" injuries and there was no immediate report of damage.
There also was no tsunami potential, according to The Indonesian Meteorological and Geophysics Agency, despite fears of one. The quake was 36 km (23 miles) deep with an epicenter 101 km (63 miles) southeast of Bali, the agency said.
The quake struck about 7 a.m. (0000 GMT) when many people were still asleep. Some jumped out of buildings in panic or ran out of hotel rooms seeking the safety of open spaces. Bali is a popular tourist destination.
A major quake struck Indonesia earlier this month, triggering a massive landslide. At least 65 people died in that quake, and hundreds others were injured.
E-mail to a friend

CNN's Andy Saputra in Jakarta, Indonesia, contributed to this report.
All About Indonesia