By Harmeet Shah Singh CNN





NEW DELHI, India (CNN) -- A car bomb was found Friday parked outside the home of a state governor in India's troubled northeast, police said. It was later detonated.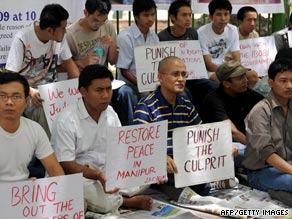 Students in Manipur state protesting about the killing of a social worker in June 2009.
The explosives, suspected to be gelatin sticks, were fitted with two mobile phone handsets, said L. Kailun, a police superintendent in Manipur state.
Bomb detection squads, acting on a tip, found the car in the parking bay of the state governor's home, he told CNN.
"It was then taken to an isolated location and detonated," Kailun added. More than 35 rebel groups are active in Manipur, one of the restive states of India's remote northeastern region, he said.
The state has been hit by street protests recently over allegations of extrajudicial killings by police commandoes.
E-mail to a friend