KABUL, Afghanistan (CNN) -- Afghan President Hamid Karzai secured over 54 percent of the vote in last month's election, according to the final uncertified results announced Wednesday.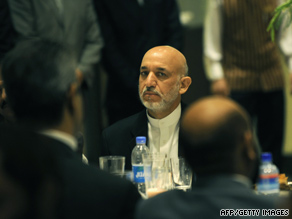 Afghan President Hamid Karzai has been accused of rigging the August 20 election by his chief rival.
The results won't be certified until investigations of election irregularities are completed by the Electoral Complaints Commission, which has received many complaints.
Karzai has 3,093,256 votes compared with 1,571,581 -- nearly 28 percent of the vote -- for his nearest challenger, former foreign minister, Abdullah Abdullah, according to Afghanistan's Independent Election Commission.
A candidate needs 50 percent of the votes to avoid a runoff.
There were 5,662,758 valid votes, and voter turnout was over 38 percent, according to the commission. That is a low turnout, especially when compared to the 70 percent in the previous presidential election, in 2004.
Taliban insurgents had warned Afghans not to vote, threatening them with violence, in an effort to discredit the entire electoral process.
The August 20 election has been rife with charges of fraud. More than 200,000 votes have already been thrown out, including 29,000 in a swath of Afghanistan where Karzai has much support -- Paktika, Ghazni and Kandahar provinces.
Hours before the final results were announced, European Union election observers said they found that more than 1.5 million votes cast in the election were suspicious -- 1.1 million of them for Karzai. Another 300,000 of them were cast for Abdullah and 92,000 for another candidate, Ramazan Bashardost, according to the observers.
Karzai blasted the European Union observer team for announcing their findings, saying that it was "irresponsible and in contradiction with Afghanistan's constitution."
"According to the constitution of Afghanistan, addressing the electoral complaints is the responsibility of the Election Complaints Commission," a statement from Karzai's campaign team said.
E-mail to a friend

CNN's Ingrid Formanek, Atia Abawi and Kevin Flower contributed to this report.
All About Afghanistan