KABUL, Afghanistan (CNN) -- Four U.S. service members were killed Saturday in two bombing attacks in Afghanistan, military officials said.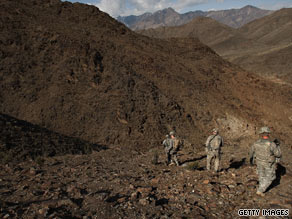 U.S troops investigate Taliban activity on February 21, 2009, in Main, Afghanistan.
Two soldiers died after their patrol struck a roadside bomb in eastern Afghanistan's Wardak province, NATO's International Security Assistance Force said Sunday.
The security force said the U.S. military confirmed that the slain troops were Americans.
In western Afghanistan, soldiers were fired upon after they struck a roadside bomb, the U.S. military said. Two died in the initial attack, the military said.
That attack took place in Farah province, said Capt. Elizabeth Mathias, spokeswoman for U.S. forces in Afghanistan. A convoy from ISAF and the Afghan National Security Force was fired upon after a vehicle struck an improvised explosive device, she said.
The convoy called for air support through a show of force -- using a plane to scare off insurgents -- but continued to be fired upon, Mathias said.
A plane was dispatched to drop two bombs in the area where the shots were determined to be coming from, Mathias said. However, the fire began coming from other areas, and the convoy decided it could not complete its mission and had to return to base, she said.
The engagement with the militants lasted nearly six hours, Mathias said.
A 14-year-old girl died and a government employee was injured by mortars fired by insurgents, said Gen. Mohammed Fakir Askar, police chief for Farah province. A Taliban insurgent was killed and eight were injured, he said.
The military initially reported that three people died in the incident, but on Sunday revised that total.
"The battle in question involved service members from several units," the military said in a statement. "A service member who was temporarily attached to a unit other than his own was reported killed by both his own unit and the unit he was assisting. Unfortunately, this duplication was not discovered until the following day."

In another incident, a U.S. soldier and his interpreter were wounded Saturday in Kabul when Afghan National Police fired on them, the military said. One of the police officers was killed.
E-mail to a friend

CNN's Atia Abawi contributed to this report.
All About Afghanistan • NATO