KABUL, Afghanistan (CNN) -- Afghan President Hamid Karzai maintains a substantial lead in the country's August presidential polls, according to partial results issued by election officials on Saturday.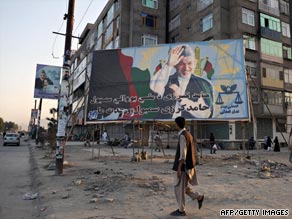 A man walks past a billboard with a photo of Afghanistan's President Hamid Karzai in Kabul on September 6, 2009.
Out of 5,545,149 valid votes from 92.82 percent of the country's polling stations, Karzai has 3,009,559 and his closest challenger, Abdullah Abdullah, the nation's former foreign minister, has 1,558,591, the Independent Election Commission said.
Other top vote-getters were Ramazan Bashardost, with 511,441, and Ashraf Ghani, with 149,720. More than 83,000 votes were cast for candidates who withdrew before the August 20 election.
The election has been rife with charges of fraud. More than 200,000 votes have been thrown out, including 29,000 votes in a swath of Afghanistan where Karzai has much support -- Paktika, Ghazni and Kandahar provinces.
Karzai needs 50 percent of the votes to avoid a runoff. Results won't be certified until investigations of election irregularities are completed by the Election Complaints Commission, which has received many complaints.
E-mail to a friend