Editor's note: Fareed Zakaria is an author and foreign affairs analyst who hosts "Fareed Zakaria GPS" on CNN on Sundays at 1 and 5 p.m. ET.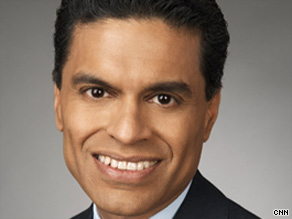 Fareed Zakaria says that despite a more dangerous security situation, the U.S. should not leave Afghanistan.
NEW YORK (CNN) -- Two service members with the NATO-led force were killed in eastern Afghanistan, military officials said Friday.
One was a U.S. service member killed while on patrol Thursday, the International Security Assistance Force said. The other victim died Friday after a gun battle. That service member's nationality, name and other details about the incident were not released.
Troop deaths have mounted in Afghanistan this year as American and other international forces have stepped up their fight against the Taliban.
August was the deadliest month for the U.S. military in the nearly eight-year-old war, with 52 fatalities. So far this month, 25 coalition troops have been killed, including 14 U.S. troops, according to CNN figures compiled from coalition reports.
CNN spoke with author and foreign affairs analyst Fareed Zakaria about the situation in Afghanistan.
CNN: It seems that things are getting worse in Afghanistan, and more commentators are saying we should leave. What are your thoughts?
Fareed Zakaria: This is something of a phony debate. The U.S., NATO, the Europeans have all invested massively in Afghanistan over the last eight years, with some success.
Fareed Zakaria: GPS
See an in-depth analysis of the situation in Afghanistan on this week's "GPS."
Sunday, 1 and 5 p.m. ET

We're not going to walk away because the security situation has gotten worse over the last few months. And it's worth noting that even now, violence in Afghanistan is not even a tenth as bad as it was in Iraq in 2006.
CNN: But don't the Afghans view American troops as an occupation force?
Zakaria: No. Look at repeated polls in which Afghans support the American presence by large margins. In this recent election, all four presidential candidates publicly endorsed the American presence.
Compare that to Iraq, where every politician would routinely denounce the U.S. The market for anti-Americanism in Afghanistan is not that large.
CNN: If we leave, will it give al Qaeda a chance to regroup?
Zakaria: Yes. A withdrawal from Afghanistan would almost certainly strengthen al Qaeda forces, which are now active into the north as well as the south of the country.
It would also take the pressure off the Pakistani military, which would figure that with America gone, its only leverage over its Afghan neighbor would be to renew its alliance with the Taliban. We have now gone eight years without a second 9/11-style attack and with al Qaeda much weaker.
Don't Miss
CNN: Why?
Zakaria: Because it is on the run. We have to keep it on the run.
CNN: So what needs to be done?
Zakaria: Well, the Obama administration needs to get real about Afghanistan. The mission there seems to have expanded from counter-insurgency to full-blown nation-building, with everyone involved asking for more resources and more troops. There is nothing wrong with helping Afghans develop their country.
But if the goal is to give Afghanistan a strong, functioning central government with a solid economy, that is a goal that cannot be met within any reasonable time frame. Afghanistan is one of the 10 poorest countries in the world. It has had a tradition of a weak central government for centuries. Illiteracy rates are somewhere around 70 percent. Building a modern army there is going to take years and years.
CNN: So do we go back to just counter-insurgency tactics?
Zakaria: No. I'd say we need to shift from nation-building to deal-making -- with all kinds of tribal leaders, and yes, even the Taliban. Buy, bribe and rent the allegiances of the tribes.
That's what the British did 100 years ago. A few years from now, I can say with confidence that Afghanistan will still be poor, corrupt and dysfunctional.
But if we can make the right deals, it can also be inhospitable to al Qaeda and other terrorist groups like it. That would be success.
E-mail to a friend

All About Afghanistan War • Al Qaeda • The Taliban