BEIJING, China (CNN) -- Rescue operations unfolded at a mine in eastern China on Wednesday, a day after a gas explosion killed at least 37 people and left dozens missing, state-run media reported.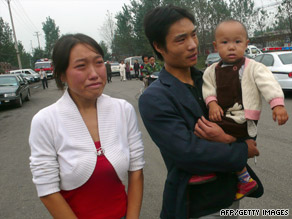 Family members arrive to find out the fate of miners Pingdingshan, China, on Tuesday.
Search teams were looking for 42 miners who remain trapped after Tuesday's accident, the Xinhua news agency reported, citing a spokesman for the Henan Provincial Bureau of Work Safety.
Two government officials were dismissed after the explosion, Xinhua reported. Vice Premier Zhang Dejiang headed a delegation from Beijing to the site.
The blast occurred about 1 a.m. (1 p.m. ET Monday) at a township coal mine near Pingdingshan City. Fourteen people were known to have survived.
Pingdingshan City is about 460 miles (740 km) south-southeast of Beijing.
In 2008, 3,215 died in China's coal mines, down about 15 percent from 2007, the State Administration of Work Safety reported. China closed 1,054 illegal coal mines in 2008, but government figures show almost 80 percent of the country's 16,000 mines are illegal.
Luo Lin, head of the Administration of Work Safety, said Saturday that China would take measures to close 1,000 small coal mines this year to improve work safety and mine management, Xinhua reported.
E-mail to a friend

All About China