KABUL, Afghanistan (CNN) -- Four U.S. service members were killed in fighting Tuesday in eastern Afghanistan, the U.S. military said.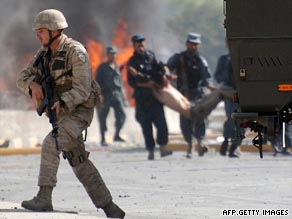 An Interior Ministry official said the victims of a suicide bomb blast at Kabul airport were all civilians.
The deaths took place in Kunar province in what a spokeswoman called an "ongoing event."
Troop deaths have mounted in Afghanistan this year as American and other international forces have stepped up their fight against the Taliban.
August was the deadliest month for the U.S. military in the nearly eight-year-old war, with 52 fatalities. The four deaths on Tuesday bring the number of U.S. troop deaths in Afghanistan to 13 in September.
Elsewhere, a suicide bomber killed two people and wounded six others Tuesday morning in the Kabul airport's military section, Afghan officials said.
U.S. and Belgian nationals were among the wounded, a Western diplomatic official told CNN. The victims were all civilians, the Interior Ministry official said.
The blast occurred near a gate at Kabul International Airport, said Zamari Bashari, a representative of Afghanistan's Ministry of Interior.
NATO forces fighting in Afghanistan and other government organizations use the military side of the airport.
In Pakistan, eight tankers carrying fuel for NATO forces over the border in Afghanistan were attacked near Quetta, according to Quetta police. People on motorcycles fired shots at the tankers when they were parked at a rest area, but they did not catch fire, police said.
E-mail to a friend

CNN's Atia Abawi contributed to this report.
All About Afghanistan • Kabul • NATO