KABUL, Afghanistan (CNN) -- Gen. Stanley McChrystal, the top U.S. commander in Afghanistan, has appointed a Canadian officer to lead a formal investigation into a NATO airstrike that killed at least 90 people.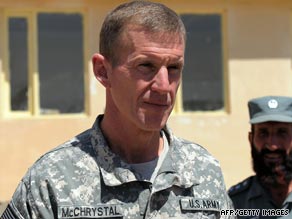 Gen. Stanley McChrystal has announced who will lead the probe into the NATO airstrike.
Maj. Gen. C.S. Sullivan, who serves as the air component element director and deputy director of joint operations for the NATO-led International Security Assistance Force, known as ISAF, will lead the probe, an ISAF statement said Tuesday.
The panel, which will include a U.S. Air Force officer, a German officer and a legal adviser, will coordinate with the Afghan investigation team named by Afghanistan President Hamid Karzai.
McChrystal visited the scene of the massive explosion in northern Kunduz province and concluded that civilians had been killed or injured in the airstrike.
The German commander in the area called in the strike last Friday as Afghans tried to siphon fuel from two tankers hijacked by the Taliban a day earlier.
German Chancellor Angela Merkel on Sunday called for a quick and thorough investigation.
"If there have been civilians among the victims, I will, of course, deeply regret this," she said.
The death toll has varied, depending on the source, but local Afghan officials have said at least half of those killed were civilians.
The Taliban gave villagers the go-ahead to drain the tankers carrying fuel earmarked for ISAF after they became stuck in the mud when the militants tried to drive them through the Kunduz River. The military thought there were no civilians near the trucks at the time of the attack, ISAF Capt. Elizabeth Mathias said Friday.
The investigation is expected to take several weeks.
E-mail to a friend

All About NATO • Afghanistan