From Elise Labott
CNN State Department Producer





WASHINGTON (CNN) -- Increasingly credible allegations of vote fraud were the topic of conversation Monday night for a meeting between U.S. Ambassador to Afghanistan Karl Eikenberry and Afghanistan President Hamid Karzai, senior State Department officials said.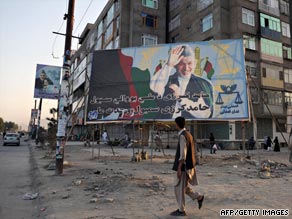 A man walks past a billboard with a photo of Afghanistan's President Hamid Karzai in Kabul on September 6, 2009.
Eikenberry urged Karzai to allow the Afghanistan Independent Election Commission (IEC) to thoroughly investigate vote fraud and determine which votes are accurate and then apply a very high standard to determine which votes are counted.
Once that is determined, IEC officials would determine whether a runoff is necessary.
The U.S. Embassy in Kabul confirmed the meeting took place but did not provide any details.
In the days following the Aug. 20 election, the IEC has sought to reassure voters of its impartiality and transparency in tallying the results, mainly responding to fraud accusations by Karzai's chief challenger, Abdullah Abdullah.
Karzai ran for a second term. Abdullah is Karzai's former foreign minister.
Kai Eide, the U.N. special representative in Afghanistan, said Tuesday that the IEC is expected to finish the vote tallying this week, after which the focus will shift to the adjudication of complaints.
"All of us are keen to see the processes move forward without delay, so that a final and just outcome is arrived at," Eide said.
Because of concerns over vote irregularities, Eide said he was calling on the IEC and the Election Complaints Commission to "redouble their efforts to ensure full rigor in their work at every stage."
"The integrity of these elections is of the utmost importance to Afghanistan and to its international partners," Eide said. "I look to both the IEC and ECC to carry out their mandated work, to high standards and to ensure that the final outcome faithfully reflects the will of Afghanistan's voters."

Watch a report on alleged election fraud »
Eikenberry spoke to U.S. Secretary of State Hillary Clinton about his meeting with Karzai later Monday, the State Department officials said.

One official called it a "shot across the bow to the Afghanistan government" to make sure the IEC is free to do its job free of interference.
As of Sunday, 74.2 percent of the votes had been tallied, the IEC said. Karzai had 48.6 percent of the vote, with Abdullah at 31.7 percent. Thousands of votes have been declared invalid.
E-mail to a friend

All About Hamid Karzai • Afghanistan • Abdullah Abdullah