KABUL, Afghanistan (CNN) -- Afghanistan's Independent Election Commission sought to reassure voters Saturday that it was impartially tallying the results of the August presidential election.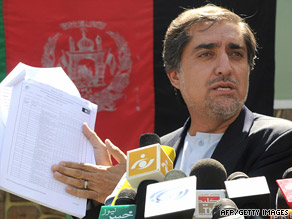 Abdullah Abdullah makes allegations of voting fraud at a news conference Saturday in Kabul, Afghanistan.
The IEC was mainly responding to accusations by Abdullah Abdullah, the main challenger to President Hamid Karzai, who wants a second term in office. Abdullah is Karzai's former foreign minister.
According to the latest vote counts released by the commission, Karzai is getting close to having the 50 percent of votes needed to avoid a runoff.
Abdullah has called the alleged vote rigging "state-engineered fraud." He is demanding that the IEC stop announcing vote tallies from the provinces, and that the Electoral Complaints Commission inform Afghans about the status of its investigations.
By September, election officials said they had received nearly 2,500 complaints, with about 560 of them deemed serious enough to potentially affect the outcome. The grievances include polling irregularities, voter intimidation and ballot stuffing.
The complaints commission said that in order for election results to be certified, it must resolve the complaints.
Don't Miss
"This is the blatant violation of the procedure, and I think it's stealing in daylight," Abdullah said at a Saturday news conference. He claimed the alleged malfeasance is reflected in the provisional results released so far.
"Today we see that everybody seems to be paralyzed. If there is an effort for cover-up, the cost of it is not for one candidate or another candidate. The cost of it is for the country," he said.
The IEC defended its work in Afghanistan.
The "IEC assures all the Afghan people, presidential and provincial council candidates that IEC has been doing its job impartially and faithfully," the commission said in a news release.
The IEC said it was considering Abdullah's allegations and statements to the media that there was "massive fraud" orchestrated by the government with the help of the commission.
"These statements are out of the expectation of IEC, since IEC has done its best to preserve its impartiality, and avoid any kinds of frauds without supporting any particular candidates.
"IEC has been processing the elections results with transparency and we assure you that the final result will be announced by the relevant commissions, and all the doubt and skepticism regarding the work of the IEC will be solved."
E-mail to a friend

CNN's Atia Abawi contributed to this report.
All About Abdullah Abdullah • Afghanistan • Hamid Karzai