From Andy Saputra
CNN





SUKANAGARA, Indonesia (CNN) -- Retired Army soldier Bana Subandi was watching television in his two-story home he built when a 7.0 magnitude-quake suddenly struck his corner of western Indonesia and buried him alive.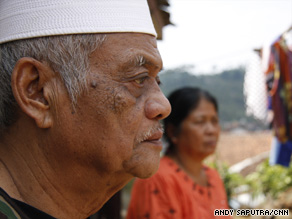 Bana Subandi sits with his wife, who was not hurt in the quake. He was trapped under his home.
"I thought it was a normal quake, not the first time for us, but it was getting bigger and the ceiling started to fall on me," said the 67-year-old, who wept at times as he recounted his experience. "I was buried alive."
Subandi said he thought he was going to die. He said he talked to God about this being his time to go and felt sad that he would not see his grandchildren --- who live with him and who are in junior high school -- grow up.
He was stuck under his home for about 30 minutes, before villagers came and pulled him out.
"I thought I was dead already, but thank God I survived," he said, adding that he got five stitches on a wound to his right hand.
At least 63 people were killed in the quake that jolted West Java on Wednesday and hundreds of others were injured.

Watch more about Subandi's story »
Subandi has been sleeping outside -- on a mat with a tarp roof over him -- in his neighbor's backyard because he is too scared to go inside. Even when he is in his neighbor's house, he flees to the outdoors every time he feels an aftershock.
"I haven't gone into my house yet," he said. "I'm traumatized. Who knows if the quake will strike again. I don't want to be trapped anymore."
Down the road from where Subandi is staying, authorities have set up tents in the middle of a field. The national disaster coordinating agency said 25,000 refugees are spread out in such camps.
Most of these people's homes were not completely destroyed, they were still livable, the agency said, but people go there at night because they fear another quake or, for those on the coastal area, it reminds them of the 2004 tsunami.

"Some of them are traumatized and fear for aftershocks," said camp coordinator Cecep Subandi, who is not related to Bana.
All of the people in the tents were jittery when it comes to tremors. They said a small tremor on Thursday caused everyone to run into the middle of the street.

For Subandi, he said he will one day return to the home he built with his own hands, but he is afraid.
"My biggest fear is that if a bigger quake strikes this area," he said.
E-mail to a friend