BEIJING, China (CNN) -- The Obama administration's point man on North Korea was due to arrive in Beijing on Thursday to start a tour of Asia -- the latest attempt to restart stalled nuclear negotiations with the reclusive state.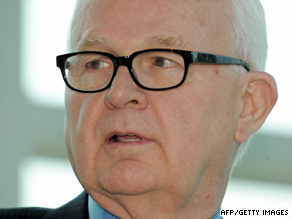 Stephen Bosworth served as U.S. ambassador to South Korea from 1997 to 2000.
"It's basically to continue consultations with our partners and allies on how best to convince North Korea that it has to live up to ... the commitments that it made under the 2005 joint statement and, of course, take irreversible steps towards denuclearization," Ian Kelly, a State Department spokesman, said Wednesday.
Stephen Bosworth will be in Beijing on Thursday and Friday, before moving on to Seoul and Tokyo. He is scheduled to return to Washington on September 8.
Also making the trip is Sung Kim, director of the State Department's Office of Korean Affairs, who will meet in Seoul with his Russia counterpart Grigory Logvinov.
China, South Korea, Japan and Russia are U.S. partners in the six-party talks aimed at ending North Korea's nuclear program.
North Korea quit the talks in April after the U.N. Security Council censured Pyongyang for a long-range rocket test that month.
Bosworth, who has visited North Korea several times, served as U.S. ambassador to South Korea from 1997 to 2000 and was executive director of the Korean Peninsula Energy Development Organization from 1995 to 1997.
Tensions have eased somewhat in recent weeks on the Korean peninsula, perhaps giving hope to a resumption of nuclear talks with the North.
Rapprochement talks between the two sides hit a wall after conservative South Korean President Lee Myung-bak took office in early 2008. He had a tougher stance toward the North than his liberal predecessor, Roh Moo-Hyun.
During August, North and South Korea agreed to resume cross-border tourism, ease border controls and facilitate cross-border family reunions, signaling a warming in relations that had been tense for most of the year.
Cross-border traffic between North and South Korea returned to normal Tuesday, after eight months of restrictions by the North.
The two Koreas have officially remained in conflict since the conclusion of the Korean War in 1953, which ended in a truce, but no formal peace treaty was signed.

Recent meetings between Korean officials are in stark contrast to the tense public statements the nations made about each other earlier this year.
Tensions between the two were heightened in July when North Korea launched seven short-range missiles toward the Sea of Japan. The launches came after North Korea conducted a nuclear test on May 25 and threatened the United States and South Korean ships near its territorial waters.
E-mail to a friend

All About North Korea • United States • Nuclear Proliferation • World Politics