(CNN) -- A British soldier died after being struck by a roadside bomb in southern Afghanistan, military officials said Thursday.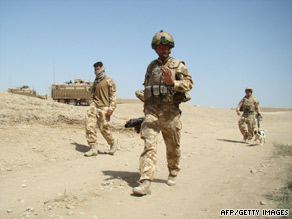 British soldiers on a patrol in Baba Ji district of Helmand province on July 26, 2009.
The explosion occurred Wednesday night when the soldier was in a vehicle in the Babaji district in central Helmand province, according to a British Defense Ministry statement.
The soldier's family has been informed, but officials did not release further information.
U.S., British and other international forces under the NATO umbrella bolstered their presence in Afghanistan this year to improve security for last month's presidential and provincial elections.
Fighting has been fierce in southern parts of Afghanistan, and there have been many casualties for U.S. and British soldiers this summer as offensives have been launched in the troubled Helmand province.
Last month, with 52 deaths, was the deadliest for U.S. troops since the war started following the September 11, 2001, terror attacks.

The higher toll follows a significant U.S. troop increase for Afghanistan -- 8,000 Marines and 4,000 additional Army troops -- ordered by President Barack Obama in February.
The United States now has about 62,000 troops in the country, and NATO allies have an additional 35,000. The Pentagon plans to add 6,000 troops before year's end.
E-mail to a friend

All About Afghanistan • NATO