(CNN) -- A court in Taiwan has sentenced the island's former first lady to a year in prison for lying to prosecutors in her husband's corruption case.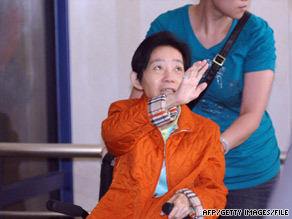 Wheelchair-bound Taiwan former first lady Wu Shu-chen leaves a hospital in Panchiao, Taiwan, in May.
Wu Shu-chen was convicted on charges that she helped her son, her daughter and her son-in-law provide false testimony in the wide-ranging trial of her husband, Chen Shui-bian, the national Central News Agency said Tuesday.
The others were each sentenced to six months in jail.
The former president's corruption trial -- the first for a former head of state -- began in March and has gripped the island for months.
E-mail to a friend