(CNN) -- An Australian state minister who went missing while hiking alone on a rugged, icy mountain was found safe Tuesday, authorities said.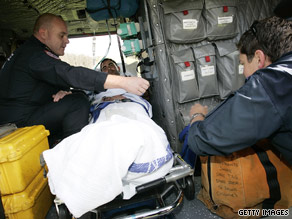 Water Minister Tim Holding prepares to be transported via air ambulance to Melbourne Tuesday in Mount Hotham.
Tim Holding, the water and tourism minister for the southeastern state of Victoria, was last heard from on Saturday. He had gone to hike to the summit of Mount Feathertop, Victoria's second-highest peak.
A news crew reporting on the rescue efforts from aboard their helicopter spotted Holding early in the day on the mountain, according to Bush Search and Rescue, a group of volunteers who assisted in the search.
Holding was dehydrated and slightly hurt, Victoria police said.
Mount Feathertop, about 142 miles (230 km) northeast of the capital, Melbourne, rises sharply to a height of 6,300 feet (1922 meters). Victoria tourism officials warn hikers to watch out for the sudden onset of bad weather during winter, Australia's current season.
Poor visibility, low cloud cover and a nonstop drizzle made it difficult for rescue crews to look for the minister by air on Monday.
E-mail to a friend

All About Australia