(CNN) -- Rescue crews will resume their search Tuesday for an Australian state minister who went missing while hiking alone on a rugged, icy mountain.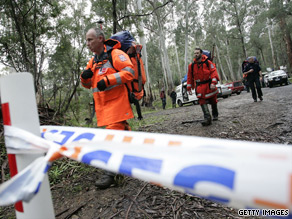 State Emergency Service volunteers search for missing state minister Tim Holding.
Tim Holding, the water and tourism minister for the southeastern state of Victoria, was last heard from on Saturday. He had gone to hike to the summit of Mount Feathertop, Victoria's second-highest peak.
"I am advised that Tim did not arrive home from the hike as planned at 4 p.m. yesterday and that he has not been contactable on his mobile phone since Saturday evening," Victoria's Premier John Brumby said in a statement on Monday.
"I am concerned for Tim's welfare, but I know he is an experienced hiker and was well-equipped for the conditions."
Poor visibility, low cloud cover and a nonstop drizzle made it difficult for rescue crews to look for the minister by air on Monday.
A search party that left for the summit Monday afternoon hoped to make it there by nightfall. They plan on starting their search at daybreak Tuesday.
Mount Feathertop, about 142 miles (230 km) northeast of the capital, Melbourne, rises sharply to a height of 6,300 feet (1,922 meters). Victoria tourism officials warn hikers to watch out for the sudden onset of bad weather during winter, Australia's current season.
E-mail to a friend

All About Australia