SEOUL, South Korea (CNN) -- North and South Korea reached an agreement Friday on reunions for families separated for decades by the Korean War, South Korea's Yonhap news agency reported.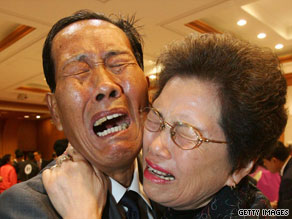 North Korean Yun Young-Seob hugs his South Korean sister Yun Bok-Seob at a 2007 reunion in North Korea.
Reunions will be held from September 26 to October 1, Yonhap said.
The agreement comes after three days of talks between the two sides in North Korea.
The talks, which were held at the Mt. Keumgang resort, were the first on the subject in almost two years. They were mediated by the Red Cross, according to Yonhap.
Under the agreement, reunions would be held at Mt. Keumgang, Yonhap said.
Rapprochement talks between the two sides have hit a wall since conservative South Korean President Lee Myung-bak took office in early 2008 with a tougher stance toward the North than his liberal predecessor, Roh Moo-Hyun.
The two Koreas have remained in conflict since the conclusion of the Korean War in 1953, which ended in a truce, but no formal peace treaty was ever signed.
Don't Miss
Last week, both sides had the first high-level, cross-border contact in nearly two years.
South Korean Unification Minister Hyun In Taek met with North Korean unity leader Kim Yang Gon. The meetings between officials of the two Koreas are in stark contrast to the tense public statements they made about each other earlier this year.

Tensions between the two were heightened in July when North Korea launched seven short-range missiles toward the Sea of Japan. The launches came after North Korea conducted a nuclear test on May 25 and threatened the United States and South Korean ships near its territorial waters.
South Korea condemned the action, calling the launches "unwise."
E-mail to a friend

All About North Korea • South Korea • Lee Myung-bak • Kim Jong Il