(CNN) -- Taliban official Hakeemullah Mehsud has been selected the new head of the Pakistani Taliban, a local Taliban commander in Pakistan's federally administered tribal areas told CNN Saturday.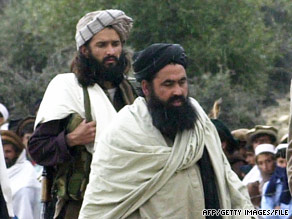 Baitullah Mehsud, right, former leader of the Pakistani Taliban, and a bodyguard in Pakistan, in 2004.
Mehsud was selected Friday by a 42-member Taliban council, or shura, according to Taliban commander Qari Haris.
Another Taliban official -- Maulvi Faqir Mohammad -- had been tapped as Mehsud's deputy, Haris said. Mohammad had named himself acting head of the Pakistani Taliban on Wednesday.
A third official -- Hazem Tariq -- was named the group's new spokesman, Haris added.
The announced selection underscored the contention by Pakistani and U.S. officials that the group's former leader, Baitullah Mehsud, was killed in an August 5 drone attack in Waziristan.
Both Mohammad and Haris claim Mehsud is alive but ill.
Pakistani officials announced Tuesday that two top figures in the Pakistani Taliban had been arrested. Saif Ullah is believed to have been Baitullah Mehsud's right-hand man, and Maulvi Umar is the well-known spokesman for the militant group.
Don't Miss

Umar recently declared that Mehsud had not been killed in a drone strike on his father-in-law's house, but a senior Pakistani official said that Umar had admitted under questioning that Mehsud was dead.
The top U.S. envoy to the region, Richard Holbrooke, told CNN that the Pakistani Taliban had not confirmed Mehsud's death because of an ongoing power struggle over his successor.
E-mail to a friend

Journalists Janullah Hamizshada and Nazar ur Islam contributed to this report.
All About Pakistan • Baitullah Mehsud • Waziristan