(CNN) -- Senior Taliban official Maulvi Faqir Mohammad has named himself acting head of the Pakistani Taliban, a close relative of Mohammad and local Taliban spokesmen in Pakistan's federally administered tribal areas told CNN Wednesday.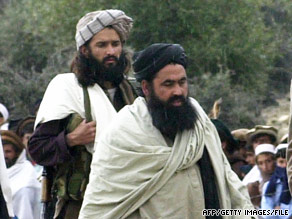 Baitullah Mehsud, right, and a bodyguard arrive at a meeting in South Waziristan, Pakistan, in 2004.
Pakistani and U.S. officials believe that the group's leader, Baitullah Mehsud, was killed in an August 5 drone attack in Waziristan. Through his relative, however, Mohammad said that Mehsud is alive but ill and temporarily unable to perform his duties.
Mohammad believes that he is in line to lead the group because he is a deputy of Mehsud's, the relative said.
A year ago, Mohammad was falsely believed killed in a Pakistani airstrike, according to media reports at the time.
The relative also said that Mohammad appointed Haji Muslim Khan as the group's spokesman. Khan is a former provincial Taliban spokesman in Swat.
Pakistani officials announced Tuesday that two top figures in the Pakistani Taliban had been arrested. Saif Ullah is believed to have been Mehsud's right-hand man, and Maulvi Umar is the well-known spokesman for the militant group.
Don't Miss
Umar recently declared that Mehsud had not been killed in the drone strike on his father-in-law's house, but a senior Pakistani official said Umar had admitted under questioning that Mehsud was dead.
The top U.S. envoy to the region, Richard Holbrooke, said the Pakistani Taliban have not confirmed his death because of an ongoing power struggle over his successor.
E-mail to a friend

Journalist Janummah Hashaimzada contributed to this report.
All About Richard Holbrooke • Taliban Movement of Pakistan • Baitullah Mehsud • Pakistan