(CNN) -- North Korean leader Kim Jong Il met with Hyundai's chairwoman, who had come from South Korea seeking the release of an employee detained since March, South Korean media reported.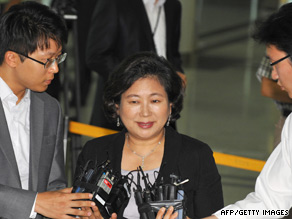 Hyundai Group Chairwoman Hyun Jeong-eun arrives at the customs office in Paju, South Korea, on August 10.
Yonhap, South Korea's official news agency, said Hyundai Group Chairwoman Hyun Jeong-eun traveled to North Korea on August 10 for what was planned as a three-day mission. Yu Seong-jin -- the employee detained since March -- was freed and returned home Thursday, Yonhap added.
Hyun stayed in Pyongyang longer than planned, as she waited for a meeting with Kim, who according to North Korean media had been out of town.
North Korea's state-run news agency KCNA said Kim met with the chairwoman "and her party on a visit to Pyongyang at the invitation of the Korea Asia-Pacific Peace Committee."
North Korea agreed to resume cross-border tourism, ease border controls and schedule a reunion for separated families across the Korean peninsula in early October, KCNA reported.
Officials also agreed to resume tourism of the historic border city of Kaesong and "energize the operation" of the jointly run industrial complex there, KCNA said.
"Both sides expressed will to improve the north-south relations," KCNA reported.
Kim has met with the Hyundai chief twice before in recent years, Yonhap reported.
Hyundai "pioneered cross-border business with North Korea about a decade ago," the Yonhap report said, adding that the company's "joint tourism ventures in North Korea hit a snag last year amid worsening political tensions."
The employee, Yu Seong-jin, was accused of "slandering the North's political system," Yonhap reported, noting that he was released days after North Korea freed two U.S. journalists after a meeting between Kim and former U.S. President Bill Clinton.
E-mail to a friend

All About North Korea • South Korea