YANGON, Myanmar (CNN) -- Myanmar pro-democracy leader Aung San Suu Kyi and the American man who swam to her home will appeal their sentences to the country's high court, their respective lawyers said Wednesday.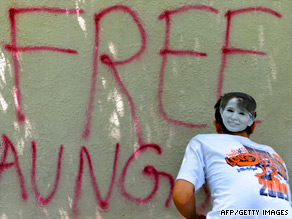 A Myanmar protester sprays grafitti on the wall of the Myanmar embassy in New Delhi Wednesday.
A day earlier, Suu Kyi was sentenced to 18 more months of house arrest.
Her lawyer, Nyan Win, said the Nobel laureate has asked that he file an appeal. He said he was awaiting government approval to visit her at her home to discuss the matter further.
The lawyer for John William Yettaw said he also will appeal the Missouri man's conviction and sentence.
Yettaw -- who, uninvited, swam two miles to Suu Kyi's home on May 3 and prompted the case -- was sentenced to seven years of hard labor.
In addition, lawyer Kin Muang Oo said he will send a letter to the head of the country's ruling junta, seeking leniency for Yettaw.
A Myanmar court initially sentenced Suu Kyi, 64, to three years in prison for violating her house arrest. But junta leader Senior Gen. Than Shwe commuted it to a year and a half of house arrest.
Suu Kyi has spent 14 of the past 20 years in one form of confinement or another -- most recently under house arrest in a crumbling, colonial-era lakeside home, where she returned after the ruling.
Don't Miss
Yettaw was convicted of violating immigration laws, municipal laws and Suu Kyi's house arrest terms.
The 53-year-old former military serviceman from Falcon, Missouri, stayed in Suu Kyi's house for two days. He testified in court that God had sent him to Myanmar to protect the opposition leader because he dreamed that a terrorist group would assassinate her.
The country's regime rarely allows Suu Kyi visitors, and foreigners are not allowed overnight stays in local households without government permission.
Suu Kyi said she doesn't know Yettaw, didn't know of his plans and denies any wrongdoing.

She told the court she did not report the intrusion because she didn't want Yettaw or anyone else to get in trouble.
World figures including Hillary Clinton, the Dalai Lama and U.N. Secretary-General Ban Ki-moon have slammed the prosecution of Suu Kyi, who won the Nobel Peace Prize in 1991.
E-mail to a friend

CNN's Kocha Olarn in Bangkok, Thailand, contributed to this report.
All About Myanmar • Aung San Suu Kyi • Human Rights Policy • Criminal Sentencing and Punishment