BEIJING, China (CNN) -- Four employees of mining giant Rio Tinto have been formally arrested on charges of trade secrets infringement and bribery, China's state-run media reported Tuesday.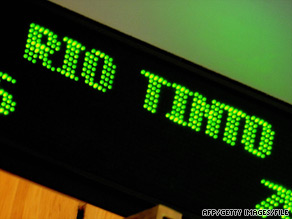 Rio Tinto signage scrolls past the opening bell at the Australian Stock Exchange in Sydney on June 5.
Stern Hu -- an Australian citizen of Chinese origin who is the general manager of Rio Tinto's Shanghai office -- and three Chinese employees were detained in July on suspicion of stealing state secrets.
An Australian government spokesman said the government received notification late Tuesday from the Chinese Ministry of Public Security of the formal arrest of the four "on suspicion of violating commercial secrets and taking bribes from individuals not employed by state organizations."
The spokesman said Australia is encouraging China to allow Hu all the protections provided under Chinese law, including access to legal representation.
Rio Tinto has called the allegations surprising and said it was not aware of any evidence to support an investigation.
China's Supreme People's Procuratorate said in a statement that preliminary investigations had shown that the four employees had obtained commercial secrets of China's steel and iron industry through illegal means and were involved in bribery, the state-run news agency Xinhua reported.
Don't Miss
The four have been formally arrested, but not yet formally charged. Lawyers not associated with the case told CNN, under Chinese law, investigators have seven months to build their case. At the end of that period, investigators present their case to prosecutors, who decide whether to pursue the case and bring about formal charges.

Watch more on the formal arrests of the Rio employees »
Obtaining commercial secrets comes with a maximum sentence of seven years, but the more serious charge of obtaining state secrets could still be filed against the four.
Earlier, China said the four bribed executives of 16 of China's major steel mills to obtain industry information.
Over the weekend, China appeared to have leveled new allegations against Rio Tinto, saying it overcharged Chinese steel mills by $100 billion over six years.
The allegations, involving the sale of iron ore, appeared on a Web site affiliated with China's state secrets administration, but they had disappeared from the site by Monday.
The author of the claims has been widely quoted as saying he knows nothing about the case and got his information from state media. He said the views in the article are his own.
A spokeswoman for Rio Tinto said Monday that the company had heard about the new accusations but did not wish to comment on them.

The detentions took place about a month after Rio Tinto broke off a more than $19 billion investment deal with China state-owned Chinalco. The deal with Chinalco was signed in February and was awaiting a review by Australia's Foreign Investment Review Board.
The deal soured as opposition party members in Australia ratcheted disapproval, saying it would put Australian resources at strategic risk. Others saw the deal as an alliance that would further link resource-rich Australia with the commodities-hungry Chinese market.
E-mail to a friend

All About China • Rio Tinto plc • Australia