JAKARTA, Indonesia (CNN) -- DNA testing shows that Indonesia's most wanted terror suspect, Noordin Top, was not killed in an 18-hour raid last week, national police said on Wednesday.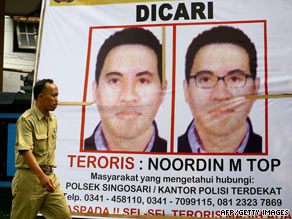 A poster in Malang, East Java, Indonesia, has under "dicari," or"wanted," Noordin Top.
The confirmation from Edy Suparwoko, of the national police disaster victim identification unit, refutes law enforcement reports over the weekend that Noordin, 40, had been killed.
Police have hunted for Noordin for years, accusing him of involvement in the 2002 Bali nightclub bombing and attacks on the Marriott hotel in Jakarta in 2003 and Australian embassy in 2004.
He also is the main suspect in last month's twin hotel bombings in Jakarta, which killed seven people and the two suspected bombers, and wounded more than 50.
It was the first major terrorist attack in Indonesia in more than three years.
The FBI in the United States added Noordin in February 2006 to its list of 10 suspected terrorists who have not been charged in the United States, but are wanted for questioning.
Noordin is reportedly an officer, recruiter, bomb-maker and trainer for a splinter group of the militant organization Jemaah Islamiyah, which has ties to al Qaeda.
Confirmation that he was not killed in the raid would greatly boost his image, an analyst said.
"It would only add to his almost legendary reputation among the outermost fringe of radical Islam, who still see him as a hero instead of a criminal," said Sidney Jones, a senior Asia adviser for the International Crisis Group, a global nonpartisan advisory organization.
Police took blood samples from his children in Malaysia, the Jakarta Post reported Monday, quoting Indonesia's ambassador to Malaysia.
Ambassador Da'i Bachtiar said officers from Detachment 88, the police's special counterterrorism squad, had just returned to Jakarta with samples of Noordin's children's blood to match it with a sample taken from a man killed in Saturday's siege, the paper said, citing the national news agency ANTARA.
"However, it is still possible we may bring Noordin's family members, his wife and children to Jakarta to identify the body," Da'i, a former chief of police, said as quoted by ANTARA from Kuala Lumpur on Sunday.

"We could also make use of help from the Malaysian police, who have Noordin's fingerprints," he said.
On Saturday, sources said Noordin was killed during a Detachment 88 raid in the Central Java town of Temanggung that began Friday and lasted 18 hours into Saturday. The information came from a police source and a security analyst with close ties to the police.
E-mail to a friend

CNN's Andy Saputra contributed to this report.
All About Indonesia • Jakarta • Terrorism • Noordin Top