By Mallika Kapur
CNN





MUMBAI, India (CNN) -- Gopal Das lugs a torn canvas bag on his frail shoulder, as he goes from door to door across neighborhoods in Mumbai, India.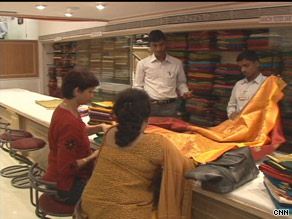 Shubhangi Bhave, at left buying a sari, likes casualwear, a sign of changing tastes among Indian women.
His method of selling is almost as dated as what he sells: traditional Indian saris.
He has been doing this for 22 years. Business has been better, he says. Just two years ago he used to sell around 600 saris a month. Now he's lucky if he sells half as many.
"Younger women don't have the time to wear them, and their parents don't teach them how to drape a sari," he says. "Plus, working women don't have the time either."
When they do wear a sari, it's for a special occasion, like a wedding.
And then many city women prefer to wear modern saris made by Indian designers. These have a modern touch. They are often adorned with Swarovski crystals or beads and worn with sexy revealing blouses. Top-of-the-line traditional silk saris and ordinary everyday cotton saris are out of favor.
"A sari becomes very cumbersome when you have to manage it the whole day," says Shubhangi Bhave who went sari shopping for her daughter's upcoming wedding. She was wearing jeans and an Indian-style shirt called a kurti, also very popular among Indian women now. She says she does wear a sari sometimes, but Western wear is more "user friendly."

Watch what's contributing to the downturn in sari sales »
Bhave's preference for casualwear trickles down to weavers in areas like Varanasi in the north and Kanjeevaram in the south, both famous for their traditional silks.
Nalli, a chain across India, obtains a lot of its saris from these areas.
The store's vice president, M. A. Balamurukeshan says the number of weavers in Kanjeevaram has fallen drastically -- from 3,000 to 300 in the last decade.
"Earlier it used to be a matter of pride for the weavers. The whole family would get involved with the looms," he explains. Now, he added, with the weavers emphasizing education among their children, "that second generation -- engineers and all -- they don't want to sit in the looms and weave, so they have moved to other jobs."
It's much harder for Nalli to get saris from these areas now. So the company is diversifying by selling dress materials, a wider range of saris and materials for kurtis to keep up with changing demands.
It's a reflection of a change in the Indian woman's mindset, says one of the country's best known columnists, Bachi Karkaria.
"I think her thinking is, 'This is me, very 21st century. I am different from my mother, certainly from my grandmother. I am practical, I have a lot to do with my life. I don't have time to wrap a sari, go through that whole ritual. I'd rather do my aerobics, my yoga, all the things an empowered young woman does.' Unfortunately the sari is seen as bit of a straitjacket, not just physically but culturally and in a mindset kind of fashion."
It's never stopped Geetha Balsaara though. The Mumbai-based event manager chooses to wear a sari every day. "I am not saying anything negative about those who don't wish to wear a sari, but personally, I feel a sari gives you an image of respectability," she says. "For me, the sari is the ultimate fashion statement."
Balsaara often picks up up her saris from the sari seller, Gopal Das, and is one of the few traditionalists in the city who gives him reason to keep going with his business.

Although it is slowly fading, he remains committed. "It's given me everything I have so far," Das says, adding it's the only thing he knows. He doesn't want the younger generation in his family to continue with it though -- he wants them to get an education and a stable job. "In my job, there's food on the table when business is good and no food when business is bad. I don't want that for the next generation," he said.
"As for me, as long as I have the strength, I'll keep knocking on doors."
E-mail to a friend