BEIJING, China (CNN) -- Hundreds of people have been detained in connection with ethnic riots in the northwest last month, China's state-run Xinhua news agency reported Sunday.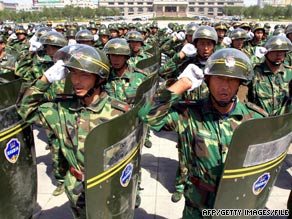 Chinese paramilitary militia chant patriotic slogans during a troop review in Urumqi, China, on July 28.
Police in Urumqi, the capital of China's remote northwestern Xinjiang Autonomous Region, said they had detained 319 people in connection with the July 5 riots, according to Xinhua. The detentions came in addition to the 253 detentions announced on July 29, the news agency said.
Before that, more than 1,000 suspects had been detained, Xinhua said. It was unclear, however, how many of the detainees had been released, and a police spokesman would not divulge further details, the news agency reported.
The latest 319 people were detained after information was received from the public or obtained through the police investigation, the Urumqi Public Security Bureau said, Xinhua reported. The suspects were arrested in Urumqi and other parts of Xinjiang.
Reports vary on the number of people killed in the ethnic riots, ranging from around 200 to many more.
Problems in the region began in late June, after two Uyghur migrant workers at a toy factory in Guangdong province were killed after a brawl between Uyghurs and ethnic Han Chinese -- the majority group in China.
Uyghurs protested in Urumqi, hundreds of miles from the toy factory. Uyghurs and Han reportedly attacked each other.
E-mail to a friend

All About China